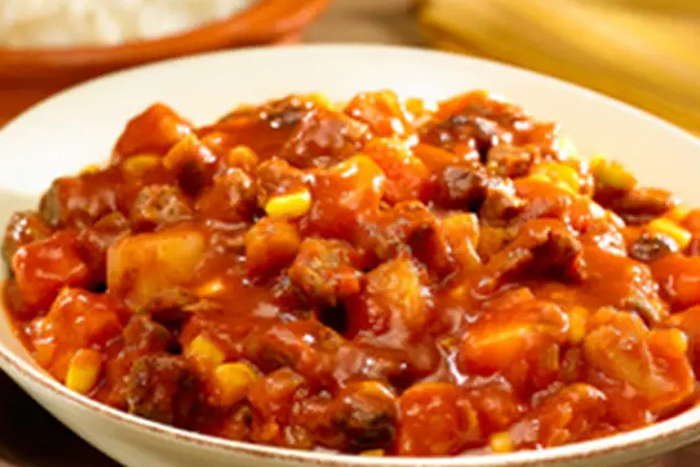 Ingredients
2 pounds LM Meat boneless beef stew meat
2 teaspoons knorr beef flavor bouillon
2 tablespoons country crock spread
1 onion (large, chopped)
1 green bell pepper (large, chopped)
2 cloves garlic
2 1/2 cups water
1/3 cup dried apricots (chopped)
1 pound all potato purpos
1 1/2 cups ragu old world style pasta sauce
1 cup frozen whole kernel corn
1/3 cup raisins
1 pound sweet potatoes or yams (peeled and cubed)
Directions
Step 1
Toss beef with Knorr Beef flavor Bouillon. Melt 1 tablespoon Country Crock Spread in 6-quart saucepot over medium-high heat and brown beef, in batches. Remove beef from saucepot and set aside.
Step 2
Melt remaining 1 tablespoon Spread in same saucepot and cook onion and green pepper, stirring occasionally, until tender, about 6 minutes. Stir in garlic and cook 30 seconds. Stir in water, beef, apricots and raisins. Bring to a boil over high heat. Reduce heat to low and simmer covered, until beef is almost tender, about 2 hours.
Step 3
Stir in potatoes and simmer until potatoes are almost tender, about 30 minutes.
Step 4
Stir in Pasta Sauce and corn and simmer until beef and potatoes are tender, about 15 minutes.