Bacon Meatballs
Inspired by Sabrina from Dinner then Dessert
Bacon Meatballs are an easy dinner, appetizer, or party food that your family and friends will love!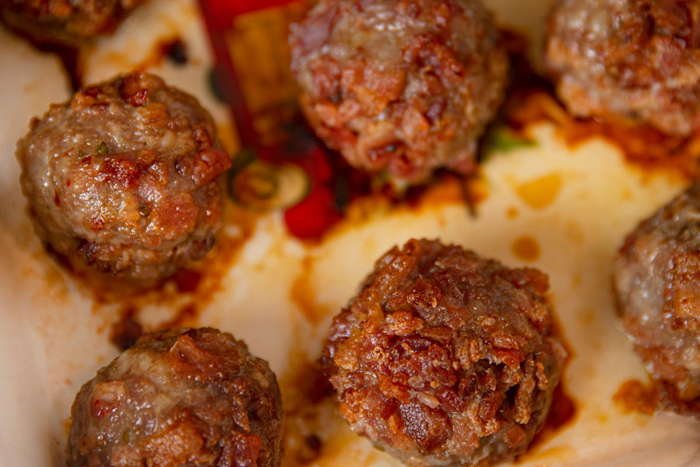 Ingredients
2 pounds LM Meat ground beef, (80/20)
3 slices bread, stale is best
1/3 cup milk
1/2 cup yellow onion, minced
2 tablespoons unsalted butter, (4 tablespoons if cooking immediately)
3/4 cup bacon , cooked and finely chopped (approximately 8 slices)
2 large eggs
1/2 teaspoon Kosher salt
1/2 teaspoon cracked black pepper
1 teaspoon Worcestershire sauce
Instructions
1. In the bowl of your stand mixer add the milk to the slices of bread.
2. Melt the butter in a pan and add the minced yellow onions.
3. Cook them on medium low until translucent but not browned.
4. Remove from heat and let cool.
5. In your bowl with the milk soaked bread add the rest of the meatball ingredients including the cooked onions.
6. Mix it on low until the bread is broken apart and the meat is combined with the ingredients (using the stand mixer and not your hands helps keep the mixture cold and tender).
7. Using a meatballer/ice cream scoop or your hands scoop them into balls about the size of a ping pong ball.
8. Freeze on a cookie sheet if possible.
9. If cooking immediately, add to a baking dish and cook at 375 degrees for 20-22 minutes.
10. Remove the meatballs from the pan and serve with your favorite sauce.