Bacon Wrapped Beef Tenderloin With Creamy Mushroom Sauce
Bacon Wrapped Beef Tenderloin With Creamy Mushroom Sauce
Bacon Wrapped Beef Tenderloin With Creamy Mushroom Sauce
Inspired by Karlynn Johnston from the Kitchen Mag Pie
This Bacon Wrapped Beef Tenderloin With Creamy Mushroom Sauce is a mushroom lovers dream come true in an easy one skillet meal.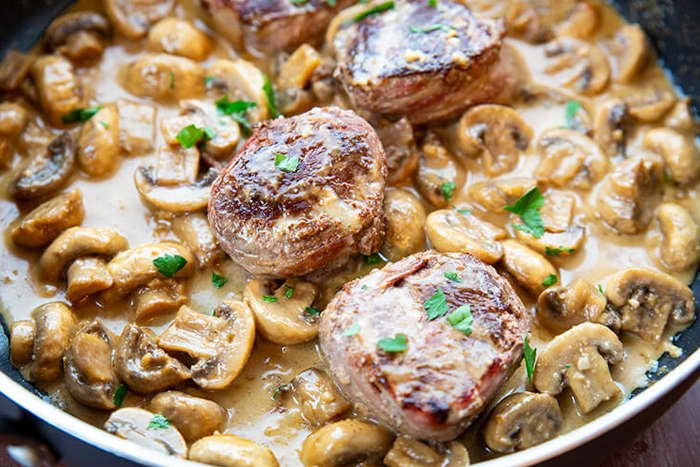 Ingredients
1 tablespoon olive oil
1 pound white mushrooms washed and sliced
1/3 cup grated white onion
3 tablespoons salted butter
2 teaspoons minced garlic
2 cups beef stock
1 tablespoon Worcestershire sauce
3 tablespoons cornstarch
1/2 cup whipping cream
Instructions
1. In a large skillet, heat the olive oil on medium-high then fry the beef tenderloins until they are browned on the outside. You want to quickly brown and sear them, around 2 minutes on each side, then later on you will continue to cook them. Once they are nicely seared and browned, remove them and place on a plate. Tent with tinfoil.
2. Fry the mushrooms and onion in the pan, in the butter until the onions are soft and the mushrooms have reduced in size and released most of their moisture. Add in the garlic and fry for 1-2 minutes until browned and fragrant.
3. Pour in the beef stock and Worcestershire sauce. Stir and scrape any browned bits off of the bottom of the pan for extra flavour.
4. Reduce the sauce for another 5 minutes, then whisk together the cream and the cornstarch. Whisk rapidly into the mushroom sauce and let thicken.
5. Return the beef tenderloins to the skillet and continue to cook in the cream sauce until they are heated through to the middle and are the doneness that you desire. Beef tenderloins are best when they are rare to medium-rare.