Bacon-Wrapped Beef Tenderloin with Red Wine Sauce
Bacon-Wrapped Beef Tenderloin with Red Wine Sauce
Bacon-Wrapped Beef Tenderloin with Red Wine Sauce
Inspired by David Venable from Keyingredient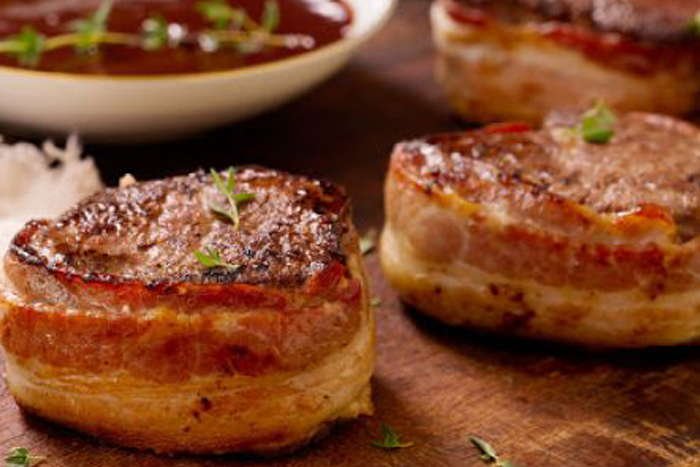 Ingredients
1-1/2 cups red wine
3 cloves of garlic
1-3/4 cups beef broth
1-1/4 cups chicken broth
2 sprigs fresh thyme
1-1/2 Tbsp tomato paste
2 Tbsp unsalted butter
1 Tbsp flour
1 Tbsp shallots, chopped
Olive oil
Preparation
Preheat the oven to 450°F.
To prepare the sauce, combine the first five ingredients in a medium-sized saucepan and then whisk in the tomato paste. Bring ingredients to a simmer over medium heat and continue to simmer until the liquid is reduced by half.
While the sauce is reducing, brush a thin layer of olive oil on both sides of each steak and season with kosher salt and fresh ground pepper.
Remove the sauce from the heat and set aside.
To prepare the steaks, heat a large nonstick skillet over medium-high heat and add the steaks, cooking 2 minutes on each side or until brown. Remove the steaks from the pan, set the skillet aside, and place the steaks on a baking sheet.
Bake for 4-5 minutes, or until your desired degree of doneness, which can be measured with a meat thermometer. For rare steak, cook until the internal temperature reaches 120°F; for medium rare, 125°F; for medium, 130°F.
Remove any extra grease from the skillet to sear the steaks then add 1 Tbsp of butter and the shallots. Sauté over medium heat until the shallots soften. Add the flour and stir until combined. Add the sauce to the skillet and bring to a simmer; stir until thickened. Remove the garlic cloves and thyme and whisk in the remaining 1 Tbsp of butter.
Remove the toothpicks from the steaks, plate them, then spoon some of the sauce over each.