Barbecued Beef Back Ribs
Inspired by Leite's Culinaria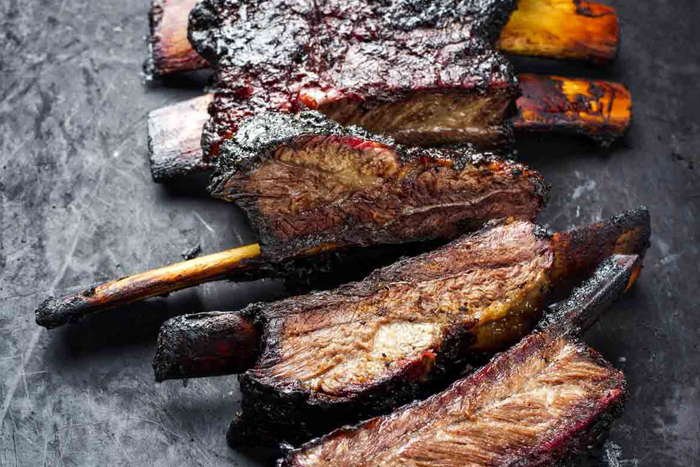 Ingredients
For the rub
3/4 cup raw or turbinado sugar
1/4 cup salt, or more, depending on your tolerance for the stuff (up to 1/2 cup)
1/4 cup paprika
2 tablespoons finely ground black pepper
1 tablespoon granulated garlic
1 tablespoon onion powder
1 tablespoon ground cumin
1 teaspoon dry mustard
1 teaspoon ground coriander
1/2 teaspoon cayenne pepper
1/2 teaspoon ground allspice
Directions
Make the rub
1. Combine all the ingredients. Mix well and take a taste. If it needs more salt, shake some in. The rub can be stored in an airtight container for up to several weeks. Makes about 1 1/2 cups.
Prepare the ribs
2. Peel the membrane off the back side of the ribs and discard it. (It tends to be sort of slippery. If you have a hard time getting a grip, try grabbing it with a paper towel and see if that helps.) Season the ribs liberally on both sides with some of the rub.
3. Prepare the grill for cooking over indirect heat at 250° F (121°C) using oak or hickory wood. Place the ribs, meaty side up, directly on the grill grate. Cook for 2 1/2 hours, maintaining the temperature of the grill as steady as possible.
4. Flip the ribs and cook for 30 minutes more.
5. Place a double layer of some big sheets of heavy-duty aluminum foil next to the grill and place the ribs on the foil, meaty-side up. Wrap the ribs, sealing the package tightly. Place the foil-wrapped ribs on the grill for 1 hour. (Wrapping the ribs in foil is essential to get them tender so do not omit this step. If you're the adventurous type, add a half cup of strongly brewed coffee to the foil package when you wrap the ribs.)
6. Transfer the foil-wrapped ribs to a platter. Increase the temperature of the grill to 400°F (204°C). Remove the ribs from the foil, place them on the grill grate, and brush with the barbecue sauce. Cook for 5 to 15 minutes, depending on how charred you like your ribs.
7. Flip the ribs, brush with the sauce again, and cook for 5 to 15 minutes more.
8. Place the ribs on a platter and serve with additional barbecue sauce, preferably warm, on the side.