Beef Medallions with Caramelized Pan Sauce
Beef Medallions with Caramelized Pan Sauce
Beef Medallions with Caramelized Pan Sauce
Inspired by Chef John from Allrecipes
This is one of those dishes that unless someone watched you make it, they'd never believe how fast and simple it is to prepare. By the way, this wonderful sauce would work just as well with pork, veal, or chicken.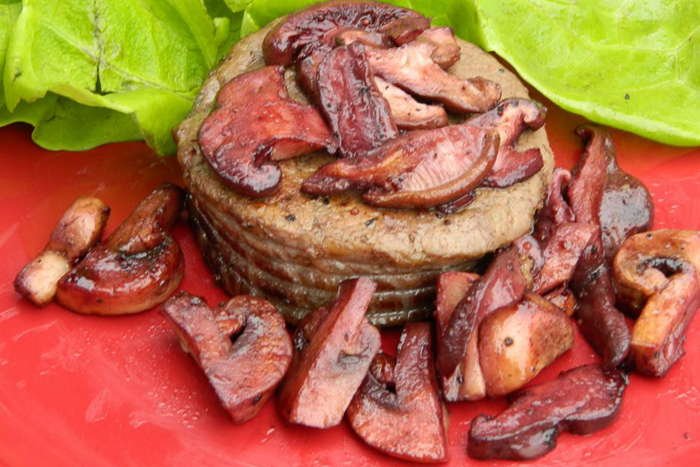 Ingredients
2 pounds LM Meat beef tenderloin, trimmed, cut into 8 (4-ounce) medallions
Salt and freshly ground black pepper to taste
1 tablespoon vegetable oil
8 sliced fresh mushrooms
1 tablespoon unsalted butter
1 tablespoon olive oil
1 pinch salt
½ cup tomato sauce
⅓ cup Marsala wine
1 cup chicken broth
2 teaspoons chopped fresh oregano
1 ½ tablespoons chilled unsalted butter, cut into cubes
Directions
Step 1
Season beef medallions with salt and pepper to taste and set aside.
Step 2
Heat vegetable oil in a skillet over high heat. Cook beef until browned, about 2 minutes per side. Remove beef to a warm plate.
Step 3
Reduce heat to medium; cook and stir mushrooms, 1 tablespoon unsalted butter, olive oil, and a pinch of salt in the skillet until mushrooms are very well browned, about 10 minutes.
Step 4
Mix in tomato sauce; cook and stir until tomato sauce thickens, about 5 minutes.
Step 5
Pour in Marsala wine and increase heat to high. Cook, scraping browned bits from bottom of skillet. Once most of the wine has evaporated, stir in broth and bring to a boil; cook and stir until broth mixture has reduced by half, about 5 minutes.
Step 6
Reduce heat to low and return beef to broth mixture; simmer until beef is cooked to medium-rare, about 2 to 3 minutes. Transfer beef to serving plates.
Step 7
Remove skillet from heat. Cook and stir 1 1/2 tablespoons butter and oregano into the sauce until butter melts. Taste for seasoning and adjust if necessary.
Step 8
Spoon sauce over beef and serve immediately.