Beef Pot Roast
Inspired by Teresa C. Rouzer from Allrecipes
This is the best and easiest recipe for pot roast I have ever tried. It is best to make it a day ahead. Serve with oven roasted vegetables, potatoes, carrots, onions, or your favorite side dish.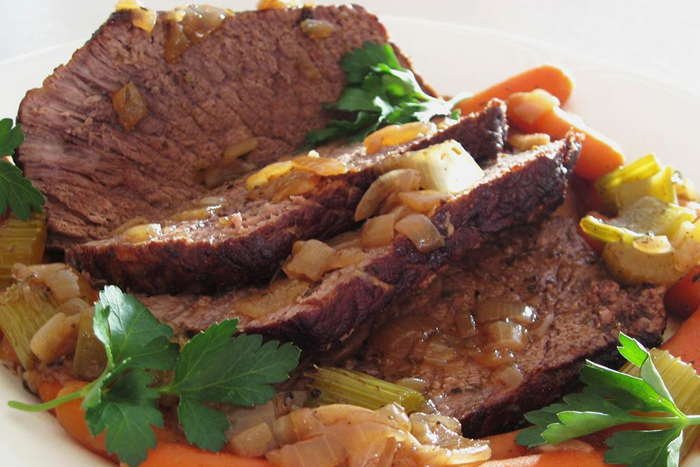 Ingredients
4 pounds LM Meat blade roast
1 onion, chopped
2 cloves garlic, minced
2 bay leaves
1 teaspoon salt
½ teaspoon freshly ground black pepper
Directions
Step 1
Preheat oven to 325 degrees F (165 degrees C).
Step 2
Heat a heavy Dutch oven on top of the stove over medium high heat. Add oil, and sear meat in the center of the pan for 4 minutes. Turn meat over with tongs; sear all sides for 3 to 4 minutes on each side. Remove meat from pan. Arrange onion, garlic, and 1 bay leaf in the bottom of the pan, and sprinkle with salt and pepper. Return meat to pan, place remaining bay leaf on top of meat, and cover.
Step 3
Cook in the oven for 30 minutes at 325 degrees F (165 degrees C). Reduce the heat to 300 degrees F (150 degrees C), and cook for 1 1/2 hours. Remove roast to a platter to rest for 10 to 15 minutes. Slice, and top with onions and gravy.