Braised Beef Short Ribs in Red Wine Sauce
Braised Beef Short Ribs in Red Wine Sauce
Braised Beef Short Ribs in Red Wine Sauce
Inspired by Nagi from recipe tin eats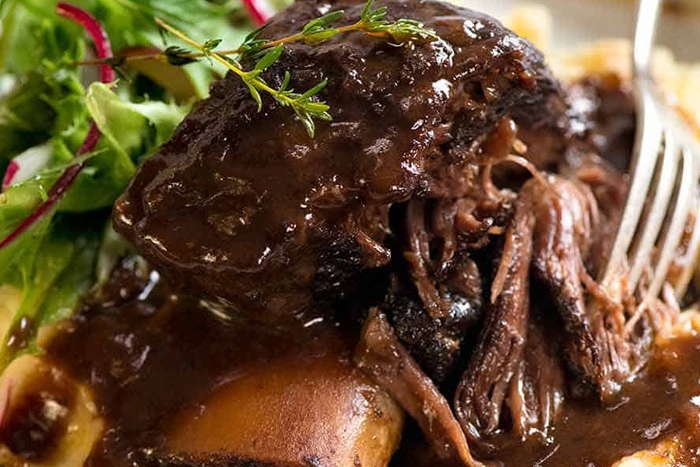 Ingredients
5 – 6 LM Meat Korean beef ribs, 300-400g/10-14oz each
1.5 tsp each salt and pepper
2 tbsp olive oil
3 garlic cloves, crushed
1 large onion, chopped (brown, yellow or white)
2 celery ribs, chopped
2 carrots, chopped
2 tbsp tomato paste
2 cups (500ml) dry red wine
2 cups (500ml) beef stock/broth, low sodium
2 sprigs thyme (optional)
2 bay leaves
Instructions
Preheat oven to 160°C/325°F.
Sprinkle beef all over with salt and pepper.
Heat oil in a large ovenproof pot over high heat. Add half the ribs and brown aggressively all over (~5 – 7 min in total). Remove and repeat with remaining ribs, then remove.
Turn heat down to medium. Add onion and garlic into the same pot and cook for 2 minutes.
Add carrot and celery, cook for 5 minutes until carrot is softened and sweet.
Add tomato paste and cook for 1 minute.
Add wine, broth, thyme and bay leaves. Stir until tomato paste is dissolved.
Return beef into liquid, arranging them so they are submerged.
Cover with lid and transfer to oven for 3 hours, or until the meat can easily be pried apart with forks.
Remove beef carefully, keeping the meat on the bone. Cover to keep warm.
Strain all liquid in the pot, pressing juices out of the onion, carrot etc. (Optional – can skip if you don't mind chunky sauce) Return sauce into pot, bring to simmer and stir. Adjust as necessary – simmer to reduce/thicken, add water to thin, season with salt and pepper if needed.
Place beef on serving plate, spoon over sauce. Serve!