Hunan Beef
Inspired by Kathleen from gonna want seconds
This Hunan Beef Recipe beats any take-out and will be ready before you can say "fortune cookie." A spicy beef stir fry, flavored with garlic and cumin. Made from a luxurious cut of meat that will have you asking yourself why you never thought of stir frying with it before! Betcha love this Hunan Beef!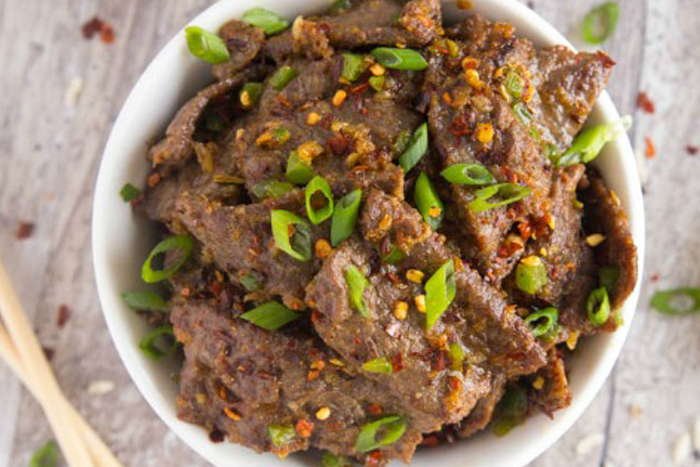 Ingredients
Marinade and Beef
12 Ounces LM Meat beef Korean ribs
Kosher salt and freshly ground black pepper, to taste
1 Tablespoon Chinese Rice Wine or Dry Sherry
1/2 Teaspoon Salt
2 Teaspoons Soy Sauce
1 Tablespoon Potato Starch or All-Purpose Flour
1 Tablespoon Water
Stir Fry
1 3/4 Cup Peanut Oil
2 Teaspoons Fresh Ginger Peeled and Grated
4 Cloves Garlic Minced
1 Jalapeno Pepper Seeded and Finely Chopped
2 Teaspoons Dried Red Chili Flakes
2 Teaspoons Ground Cumin
1/4 Cup Green Onions Thinly Sliced on the Diagonal, Green Part Only
1 Teaspoon Toasted Sesame Oil
Instructions
1. In a mixing bowl, whisk together the Chinese wine, salt, soy sauce, potato starch and 1 Tablespoon water. Add the sliced beef to the marinade and toss, using your hands, to evenly coat the beef slices. Allow to stand at room temperature for 15 minutes.
2. Heat the peanut oil in a wok until it reaches about 275 degrees. Add the sliced beef, stirring gently to keep from sticking together, and cook for 2-3 minutes. Remove to a plate, lined heavily with a paper towel, turning slices over as needed to remove any excess oil.
3. Pour out all but 3 tablespoons oil from wok. Turn heat to high until oil just begins to smoke. Add ginger, jalapeno, chili flakes, and cumin and stir-fry stirring constantly, until fragrant, about 20-30 seconds. Return the beef back to the wok, adjusting salt and pepper, and stir well to combine and cook for 1 minute. Remove from heat. Drizzle top with sesame oil. Garnish with sliced green onion and a few red chili flakes and serve.