Maple Balsamic Braised Cross Rib Roast
Maple Balsamic Braised Cross Rib Roast
Maple Balsamic Braised Cross Rib Roast
Inspired by The Healthy Foodie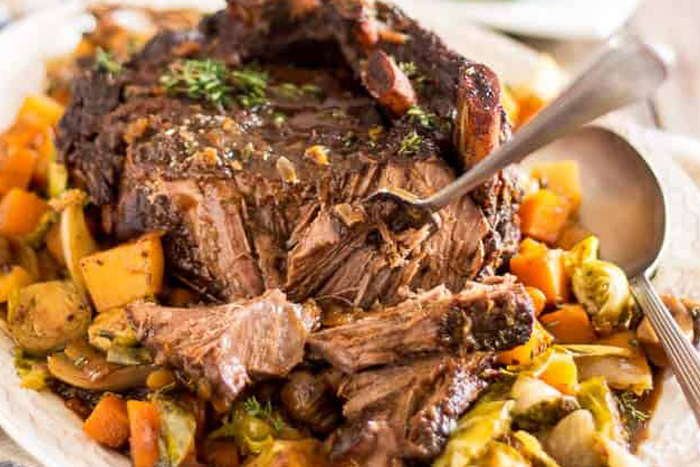 Ingredients
Part I
2.2 kg 5lb LM Meat cross rib roast
2 large onions sliced
3-4 cloves garlic
2 cups bone broth
1/2 cup balsamic vinegar
1/4 cup pure maple syrup
2 tbsp Dijon mustard
5-6 sprigs fresh thyme finely chopped
1 tsp Himalayan salt
1 tsp freshly cracked black pepper
Part II
1 large onion cut into 8 wedges
1 small rutabaga peeled and cut into 1" cubes
1/2 medium butternut squash peeled and cut into 1" cubes
2 cups Brussels sprouts cut in half
227 g mushrooms sliced
Instructions
1. Preheat oven to 325F
2. In a large skillet that can handle some serious heat, melt a generous amount of healthy cooking fat over very high heat.
3. While the pan is heating, pat the roast real dry and sprinkle generously with salt and pepper, then place the roast in the hot pan and sear on all sides until a beautiful golden crust forms.
4. Move the meat to a large Dutch oven and place the skillet back over the heat source. Lower the heat to medium and add the onions and garlic. Cook for about 2-3 minutes or until softened, then add to the Dutch oven with the meat.
5. Mix the bone broth, balsamic vinegar, maple syrup, Dijon mustard, fresh thyme salt and pepper in a glass measuring cup or bowl that's equipped with a pouring spout. Pour that over the roast and onions, place the lid on and then bake in a 325F oven for about 3½ hours, or until meat is tender.
6. Remove the meat from the oven, add the onion wedges, rutabaga, butternut squash, Brussels sprouts and mushrooms, put the lid back on and send this back to the oven, increasing the temperature to 375F. Cook for an additional 30 minutes, then remove the lid and continue cooking for a final 10-15 minutes.
7. Remove the roast from the oven and allow it to rest and cool for 10-15 minutes before serving.