Onion-Braised Beef Brisket
Inspired by Nach Waxman's recipe in The New Basics Cookbook by Julee Rosso & Sheila Lukins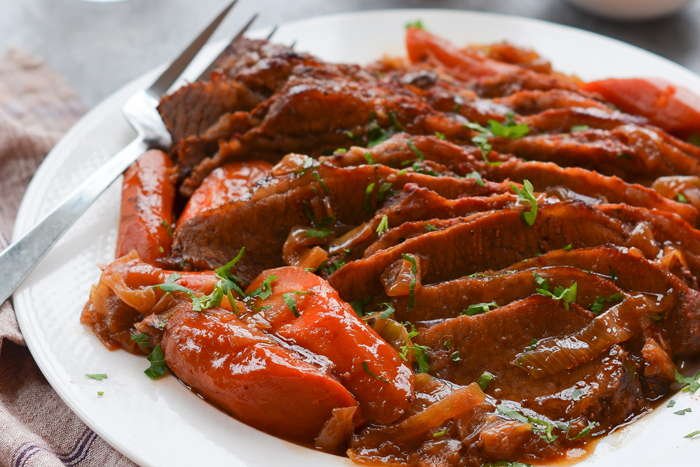 Ingredients
1 5-6 pound LM Meat beef brisket, trimmed so a thin layer of fat remains in some spots (do not over trim!)
1-1/2 tablespoons kosher salt
1 teaspoon ground black pepper
2 tablespoons all-purpose flour (okay to substitute matzo cake meal for Passover)
3 tablespoons vegetable oil
8 medium yellow onions, peeled and sliced 1/2-inch thick
3 tablespoons tomato paste
3 cloves garlic, roughly chopped
6 carrots, peeled and sliced into large chunks on a diagonal
Handful fresh chopped parsley, for garnish (optional)
Instructions
1. Set an oven rack in the middle position and preheat the oven to 350°F.
2. Season the brisket on both sides with the salt and pepper. Lightly dust the brisket with the flour, then shake and turn to coat evenly. Heat the oil over medium-high heat in a heavy flameproof roasting pan or ovenproof enameled cast-iron pot just large enough to hold the brisket and carrots snugly. Add the brisket to the pan and sear on both sides until crusty brown areas appear on the surface, 5 to 7 minutes per side.
3. Transfer the brisket to a platter, then add the onions to the pot and stir constantly with a wooden spoon, scraping up any browned bits stuck to the bottom of the pot. Cook until the onions are softened and golden brown, about 15 minutes. (If browned bits stick to the bottom of the pan and start to burn, add a few tablespoons of water and scrape with a wooden spoon to release them.)
4. Turn off the heat and place the brisket, fatty side up, and any accumulated juices on top of the onions. Spread the tomato paste evenly over the brisket, then scatter the garlic and carrots around the edges of the pot. Cover the pot very tightly with aluminum foil (preferably heavy-duty or two layers) or a lid, then transfer to the oven and cook for 1-1/2 hours.
5. Transfer the brisket to a cutting board and, using an electric or very sharp knife, slice the meat across the grain into approximately 1/8 – 1/4-inch-thick slices. Return the slices to the pot, overlapping them at an angle so that you can see a bit of the top edge of each slice. The end result should resemble the original unsliced brisket leaning slightly backward. Cover the pot tightly and return to the oven.
6. Lower the heat to 325°F and cook the brisket until it is fork-tender, 1-3/4 to 2-1/2 hours, or longer if necessary. The brisket is ready to serve with its juices, but it is even better the second day. (Note: If the sauce seems greasy, transfer the meat and vegetables to a platter and cover with foil to keep warm. Pour the sauce into a bowl and let sit until the fat rises to the top. Using a small ladle, spoon out the fat. Pour the skimmed gravy back over the meat.)