Oven Beef Back Ribs
Inspired by Vered DeLeeuw from Healthy Recipes
An easy recipe for tender, flavorful oven beef back ribs. It's not a quick recipe, but it's truly easy, and the result is so very flavorful!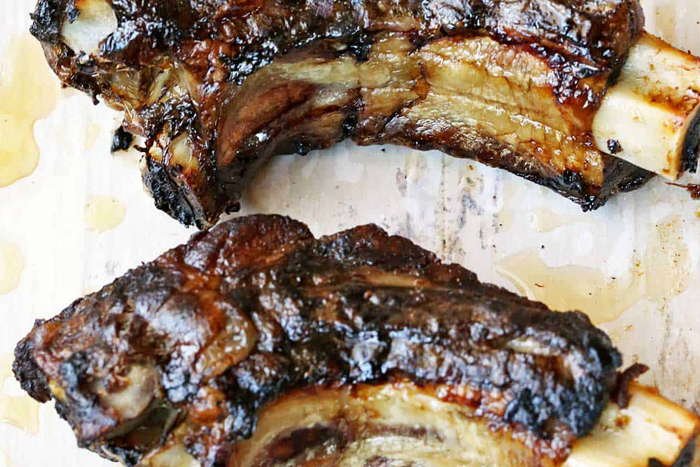 Ingredients
2 racks LM meat beef back ribs, 2 lb. each
½ cup apple cider vinegar
2 tablespoons hot pepper sauce
Olive oil spray
2 teaspoons smoked salt
½ teaspoon black pepper
2 teaspoons smoked paprika
1 teaspoon onion powder
1 teaspoon garlic powder
Instructions
Preheat your oven to 250 degrees F. Line a rimmed baking sheet with parchment or foil (for easy cleanup).
In a small jar or bowl, whisk together the apple cider vinegar and the hot sauce. Set aside.
If you wish, remove the thin membrane from the bone side of the ribs. Here's how.
Place the ribs on the prepared baking sheet, bone side down. (Use two baking sheets if they don't fit in one). Spray the tops of the ribs with olive oil and sprinkle them with smoked salt, black pepper, smoked paprika, onion powder, and garlic powder.
Bake the ribs, uncovered, for 1 hour.
Mix the apple cider vinegar marinade again, then pour it into three small bowls, dividing it evenly. Baste the tops of the ribs with ⅓ of the marinade.
Return the ribs to the oven and bake them for three more hours, uncovered, basting the top with ⅓ of the marinade every hour (make sure you rinse the basting brush after each basting with hot soapy water).
After 4 hours of baking, the ribs should be nicely browned and very tender. At this point, you can serve them. But to make them even better, reduce the oven to 200 degrees F, and keep them in the oven for one more hour. This will ensure extra tender beef with a crispy, caramelized exterior.
Remove the ribs from the oven, cut into six portions and serve.