Perfect Sirloin Beef Roast
Inspired by The healthy Foodie
Get the Perfect Sirloin Beef Roast every single time with this easy, foolproof cooking technique.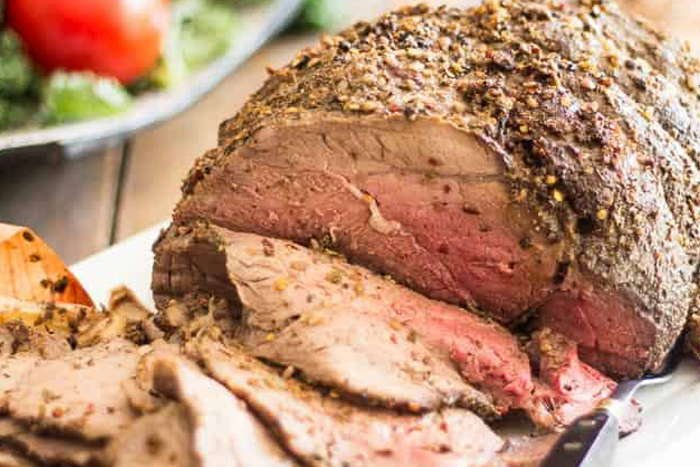 Ingredients
1 LM Meat beef sirloin roast, about 3kg | 6.5lb
1 large onion peel on, quartered
2 celery ribs each cut in half
2 large carrots peel on, each cut in half both crosswise and lengthwise
4-5 garlic cloves peel on, smashed with the side of a knife
1/2 cup water
For the spice mix
3 tbsp dried onion flakes
2 tbsp dried oregano
1 tbsp coriander seeds
1 tbsp Himalayan salt
1 tbsp black peppercorns
1½ tsp chili pepper flakes
Instructions
1. The day before you're going to be cooking your roast, grind all the spices together in a mortar or in a coffee grinder.
2. Trim off excess visible fat from the meat and rub this spice mix on all surfaces of the roast. Cover the roast tightly with several layers of plastic film and place it in the refrigerator to rest until the next day. It would be a good idea to place your roast in a rimmed plate or dish to collect any eventual leakage.
3. When you are ready to cook your roast, remove it from fridge, unwrap the meat from the plastic wrap, and tie it up nice and tight with butcher's twine, if it isn't already tied.
4. Preheat oven to 325°F.
5. Place the onion, celery, carrot, garlic and water in a large baking dish and place the roast over the veggies; this will allow air to circulate all around your roast and will greatly contribute in keeping it moist while also infusing some beautiful flavors into your meat.
6. Bake the roast uncovered for about 15 minutes per pound or until a meat thermometerinserted in the thickest part of the roast reads 115°F – 125°F, depending on desired doneness.
7. Turn your oven off, lightly tent your roast with aluminum foil and leave it in the oven for another 20 to 40 minutes, or until that meat thermometer reads 130°F for rare, 145°F for medium-rare, 160°F for medium and 170°F for well done (although I really do not recommend you go past medium-rare, because that would make the meat really tough and even leathery)
8. Take the roast out of the oven and allow it to rest for an additional 20 minutes, still lightly tented. Then, transfer the roast to a cutting board, remove the twine, carve, and serve.