Rotisserie Top Round Roast With Garlic and Herbs
Rotisserie Top Round Roast With Garlic and Herbs
Rotisserie Top Round Roast With Garlic and Herbs
Inspired by Taste of Artisan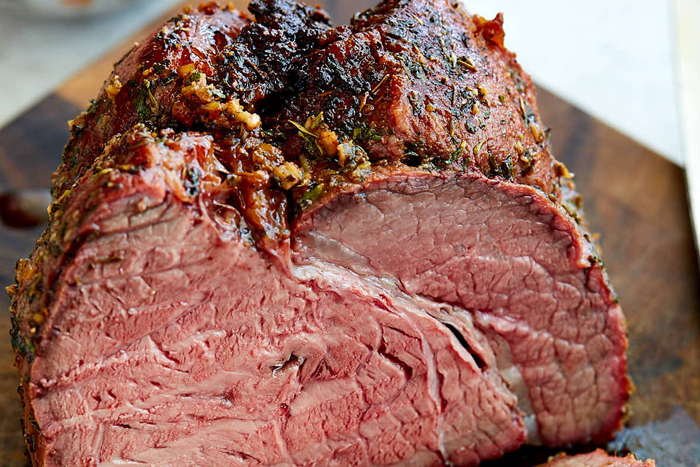 Ingredients
3-4 lb LM Meat inside round roast
1 Tbsp kosher salt
1 Tbsp dried basil
1 Tbsp dried thyme
1 Tbsp dried parsley
5 cloves garlic pressed
1 tsp cayenne pepper
1 tsp black peppercoarsely ground
Instructions
1. Sprinkle the salt evenly all over the roast, patting it down as you go to make it stick to the meat. Repeat this step with black and cayenne peppers, followed by herbs.
2. Finish by applying minced garlic evenly all over the roast and patting it down as you go.
3. Secure the roast on a spit and roast over direct heat, lid closed, at 325F (at the dome), for about 1 1/2 hours, until desired doneness. I pulled my roast at 130F internal temperature for medium well doneness. Add a couple of chunks of wood for some color and smoky flavor in your grill. I used wild cherry wood for this roast.
4. While the top round roast is on the rotisserie, roast some vegetables in the oven.
5. Let the roast rest for about 5-10 minutes before slicing.
6. Slice and serve with roasted vegetables.