Skillet Rib Eye Steaks
Inspired by Robyn Stone from Add a Pinch
Skillet Rib Eye Steaks Recipe – Butter-basted skillet rib eye steaks that will remind you of your favorite steak house rib eye steaks!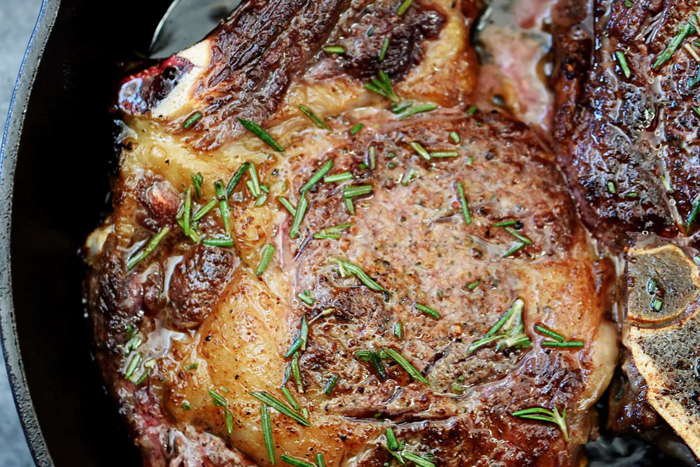 Ingredients
1 (1 1/4 pound) LM Meat bone-in rib eye steaks, (about 1 1/4 to 1 1/2-inch thick)
1 teaspoon Stone House Seasoning
2 teaspoons chopped fresh rosemary leaves
1 tablespoon unsalted butter
1 tablespoon olive oil
Instructions
1. Place rib eye steak onto sheet pan and rub both sides with Stone House Seasoning to coat, making sure to press the seasoning to the meat. Sprinkle with fresh rosemary leaves.
2. Cover and refrigerate your rib eye steaks up to 3 days. When ready to cook your rib eye steaks, remove from the refrigerator and allow to rest at room temperature for 30 minutes. If prepping your steaks for cooking immediately, leave at room temperature for 30 minutes.
3. To cook, heat a medium skillet over medium heat. Add butter and olive oil to the skillet and allow the butter to melt completely. Tilt your skillet from side to side to make sure that your skillet is well coated with the butter and olive oil.
4. Add your rib eye steak to the butter and olive oil and cook until the bottom of the rib eye steak is brown and caramelized, about 5 minutes. Turn your rib eye steak over and cook, basting your rib eye steak continuously with the butter and oil drippings from the skillet, until this side of the rib eye steak is also brown and caramelized, another 5 minutes or to your desired internal temperature for doneness.
5. Remove your rib eye steak from the heat and allow to rest on a carving board for another 5 minutes. Slice your steak with a sharp knife against the grain, taking care to remove the bone. Place steak slices on two plates for serving.