Stovetop Double-Stack Cheeseburgers
Inspired by Nick Evans from Simply Recipes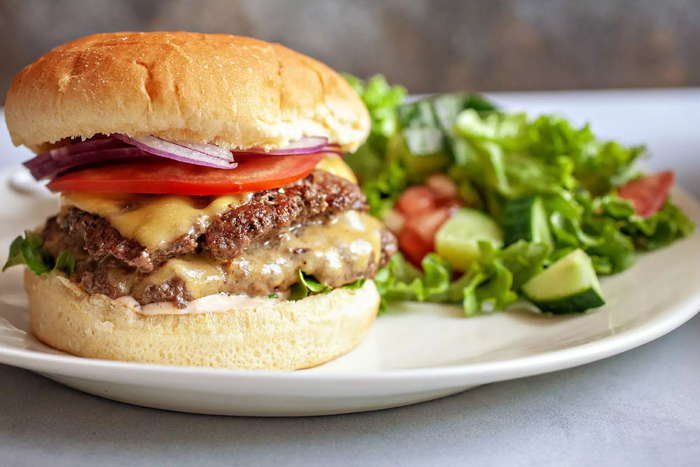 Ingredients
For the burgers:
1 teaspoon salt
1 teaspoon black pepper
1/4 teaspoon garlic powder (optional)
2 teaspoons olive oil
4 to 8 slices American cheese
4 hamburger buns
Fresh lettuce
Tomato slices
Red onion slices
For the easy burger sauce:
1/2 cup mayonnaise
2 tablespoons ketchup
1 tablespoon pickle relish
Method
1. Make the burger sauce:
Stir together the burger sauce ingredients, and adjust the flavors to your liking. Some people like more ketchup or more relish.
2. Add the patties to the pan and press:
Preheat a skillet over medium-high heat. Add a drizzle of olive oil. Add the beef balls one at a time, pressing each one by covering it with foil and pressing down to flatten with a second small pan or skillet. Try to get the patty as even as possible. For double burgers, you are looking for a very thin patty. For single burgers, shoot for about 1/3-inch thick patty.
Repeat with pressing each of the patties in the pan, reusing the same piece of foil.
3. Cook the patties:
Cook patties for 2 minutes for the thinner double patties, or 3 to 4 minutes for the thicker single patties. Flip, top with cheese, and cook until the cheese is melted, another 2 to 3 minutes.
The patties will shrink a bit as they cook. It's okay to press on them a bit with your spatula to reshape them slightly, but try to keep a light touch, or you will push out all the juices.
4. Assemble the burgers:
When your burger patties are cooked through and the cheese is very melted, smear the bottom bun with 1 to 2 tablespoons of burger sauce and top with lettuce. Add your burger patty (or patties) and top with sliced tomato and red onion.
Serve immediately!