Chicken Souvlaki Salad
Inspired by Recipe Runner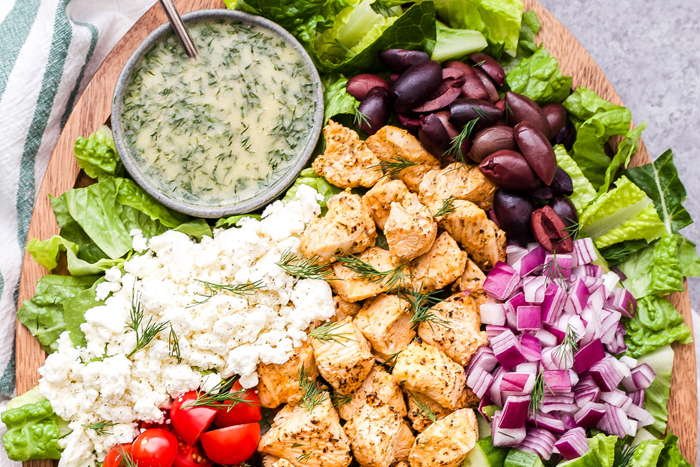 Ingredients
CHICKEN
2 tablespoons olive oil
1/4 cup fresh lemon juice
3 cloves of garlic, grated or minced
2 teaspoons dried oregano
1/2 teaspoon smoked paprika
Kosher salt and fresh ground black pepper to taste
SALAD
6 cups chopped lettuce
1 cup diced cucumber
1 cup cherry tomatoes, halved
1/3 cup kalamata olives, halved
1/3 cup crumbled feta cheese
1/4 cup diced red onion
1/4 cup pepperoncini
VINAIGRETTE
2 tablespoons olive oil
1/4 cup fresh lemon juice
2 tablespoons fresh dill, chopped
1 tablespoon dijon mustard
1 teaspoon honey
Kosher salt and fresh ground black pepper to taste
Instructions
1. In a bowl or freezer bag combine the marinade ingredients. Add in the chicken and massage the marinade into it. Let it sit on the counter for 30 minutes or in the refrigerator overnight.
2. While the chicken marinates, whisk together all of the ingredients for the vinaigrette in a small bowl and set aside.
3. Once the chicken has marinated preheat the grill to medium high heat or to 400° F. if you are using the oven. If grilling, grill for 6-10 minutes or until cooked through, flipping them halfway through the cooking time. If baking place the sheet pan in the oven while it preheats. When ready, remove the pan, drizzle with olive oil and spread the chicken into an even layer. Bake for 8-10 minutes or until cooked through.
4. On a large serving platter or bowl arrange the romaine lettuce and top with the cucumbers, tomatoes, red onion, olives, feta, pepperoncini and chicken. Serve with the vinaigrette on the side.