Easy Italian Chicken Meatballs
Inspired by Suzy Karadsheh from the Mediterranean Dish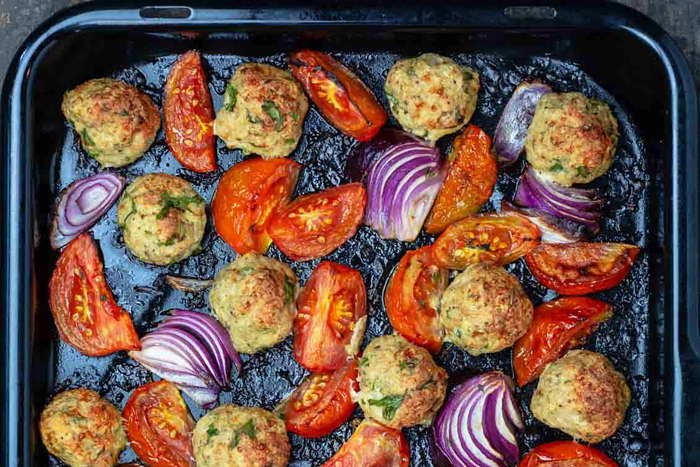 Ingredients
1 1/2 lb LM Meat ground chicken
1 large red onion cut into wedges
6 to 7 to Tomatoes Roma or tomatoes on the vine, quartered or cut into wedges
3 tsp fresh thyme leaves divided
Extra Virgin Olive Oil
Kosher salt
3 garlic cloves minced
1 raw egg beaten
1/2 cup freshly grated Parmesan cheese
1/3 cup plain bread crumbs see notes for gluten free option
2 tsp dry oregano
1/2 tsp sweet paprika
Black pepper
1 cup fresh chopped parsley
Instructions
1. Preheat the oven to 400 degrees F. And lightly brush a large sheet pan with extra virgin olive oil.
2. In a large mixing bowl, add the sliced onions and tomatoes. Sprinkle with kosher salt and about 1 ½ tsp fresh thyme (leave the rest of the thyme for later). Drizzle a bit of extra virgin olive oil and toss to combine. Transfer to the prepared sheet-pan and spread well.
3. In the same mixing bowl, now prepare the chicken meatball mixture. Add ground chicken, garlic, egg, remaining 1 ½ tsp thyme, Parmesan cheese, and bread crumbs. Add oregano, paprika, pinch of salt and black pepper, and 1 cup fresh chopped parsley. Drizzle a bit of extra virgin olive oil. Using clean hands (remove any rings, of course), mix well until the chicken meatball mixture is well-combined.
4. Form the mixture into small chicken meatballs about 1 ½ tbsp each (whatever size you choose, stick to it for even cooking.) Arrange the chicken meatballs on the same sheet pan with the tomatoes and onions (nestle them in between the veggies, making sure not to crowd the meatballs.)
5. Bake for 30 minutes or so, or until meatballs begin to turn a beautiful golden brown and the tomatoes collapse. (If after they've baked, you'd like a little more "crust" or color to your meatballs, you can remove them from the oven briefly and brush the meatballs with extra virgin olive oil. Turn oven heat up to 450 degrees F and return the meatballs to the oven for 5 more minutes or so, watch carefully.)