Eve's Chicken Quarters
Inspired by Eve Lange from Allrecipes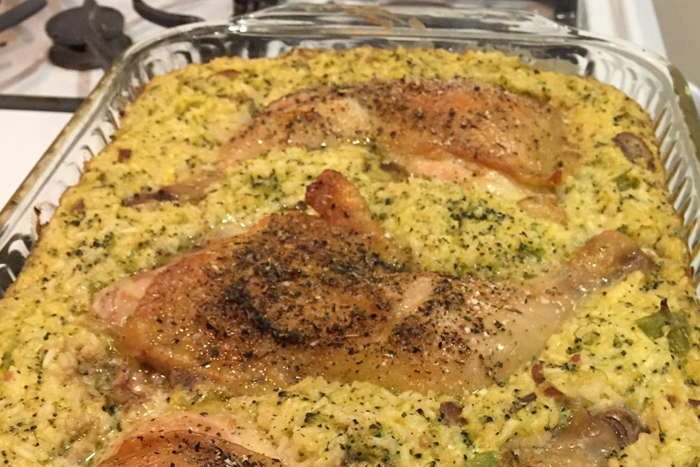 Ingredients
1 (4.5 ounce) package instant long grain and wild rice
2 cups water
1 (10.75 ounce) can condensed cream of chicken soup
1 (8 ounce) container sour cream
2 cloves garlic, crushed
1 tablespoon minced garlic
1 cup chopped broccolic
Directions
Step 1
Preheat oven to 350 degrees F (175 degrees C).
Step 2
Place chicken quarters in a 9×13 inch baking dish and bake in preheated oven, covered, for 45 minutes.
Step 3
Meanwhile, in a large bowl combine rice and seasoning packages, water, soup, sour cream, crushed garlic, minced garlic and broccoli. Mix well.
Step 4
Remove chicken to a platter and drain oil. Spread rice mixture in the bottom of the baking dish, then arrange chicken on top of rice. Bake uncovered for 30 to 45 minutes, or until wild rice is opened up and liquid is absorbed.