Flat Roasted Chicken with Smoked Paprika
Flat Roasted Chicken with Smoked Paprika
Flat Roasted Chicken with Smoked Paprika
Inspired by Leites Culinaria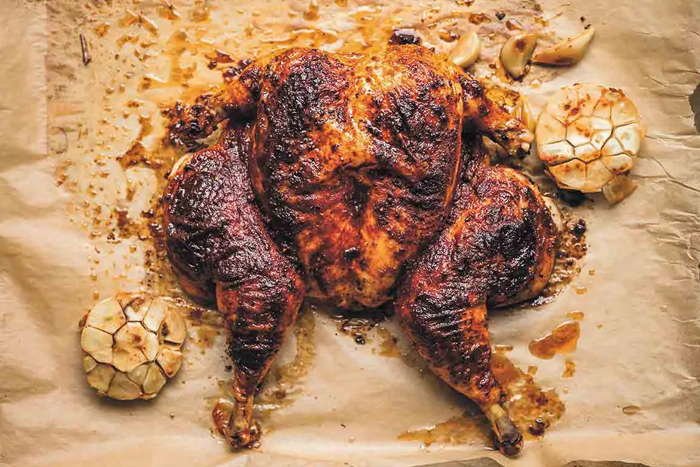 Ingredients
One (3-to 4-pound) LM Meat Flat roaster chicken
Kosher salt
2 tablespoons olive oil
2 tablespoons lemon juice
4 garlic cloves, smashed to a paste with a pinch of salt
1/2 teaspoon coarsely ground black pepper
1 tablespoon smoked hot paprika
1 tablespoon smoked sweet paprika
Directions
1. Place the flattened chicken on a heavy rimmed baking sheet and season generously with salt on both sides.
2. In a small bowl, mix together the olive oil, lemon juice, garlic, pepper, and hot and sweet paprika.
3. Brush or rub the mixture thoroughly on both sides of the chicken. Cover and refrigerate for at least 3 hours and up to overnight.
4. Preheat the oven to 450°F (230°C).
5. Roast the chicken, skin side up and uncovered, for 15 minutes.
6. Reduce the heat to 400°F (200°C) and continue roasting until the chicken is well browned and a thermometer inserted in the thickest part of the thigh registers 165°F (75°C), about 30 minutes more. Let rest for 10 to 15 minutes.
73 Using a cleaver or heavy knife, cut the chicken into 8 pieces. Transfer to a platter and serve.