Greek Chicken Stuffed Zucchini
Inspired by Laura Rege from Delish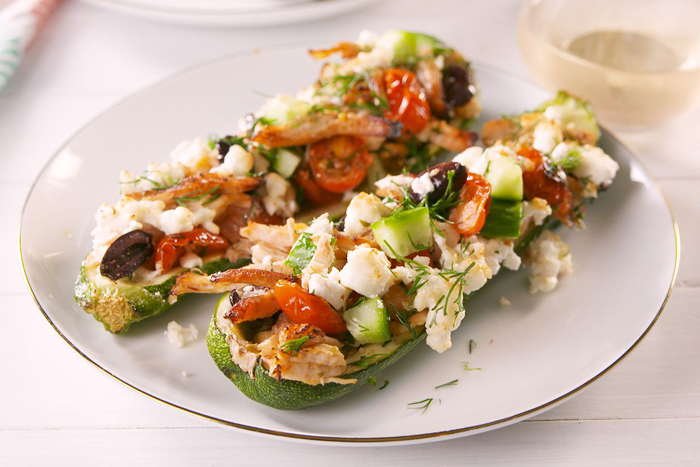 Ingredients
2 c. LM Meat chicken breast boneless , cooked and shredded
3 zucchini, halved lengthwise
2 tbsp. extra-virgin olive oil
1/2 onion, chopped
2 cloves garlic, minced
1 tsp. dried oregano
Kosher salt
Freshly ground black pepper
1 (15-oz.) can chickpeas
1/2 c. halved cherry tomatoes
1/2 c. halved kalamata olives
1 c. crumbled feta cheese
1/2 lemon
3/4 c. finely chopped cucumber
Chopped fresh dill sprigs, for serving
Directions
1. Preheat oven to 350°. Score zucchini and scoop out insides into a bowl. Place in a shallow baking dish, drizzle with olive oil, and season with salt and pepper. Bake 12 to 15 minutes, until mostly tender. Remove from oven and turn broiler to high.
2. In a large skillet over medium heat, heat olive oil. Add onion and cook until soft, about 5 minutes. Stir in garlic and cook until fragrant, about 1 minute more. Add scooped zucchini and cook until light golden, about 2 minutes. Add shredded chicken and chickpeas, tomatoes, olives, and oregano and cook stirring occasionally until the mixture is heated through, about 5 minutes.
3. Spoon chicken mixture into zucchini then top with feta cheese. Bake until zucchini is just tender and cheese is melted, about 10 minutes more. Squeeze lemon over zucchini boats, garnish with cucumber and dill, and serve warm.