Grilled Chicken Wings with Seasoned Buffalo Sauce
Grilled Chicken Wings with Seasoned Buffalo Sauce
Grilled Chicken Wings with Seasoned Buffalo Sauce
Inspired by Jennifer Segal from Once Upon a Chef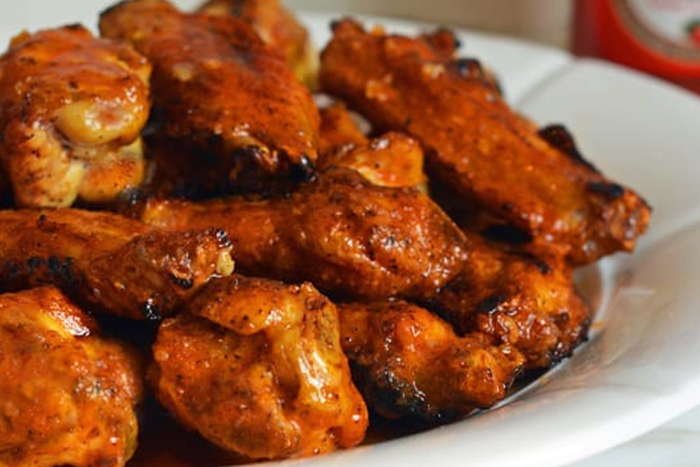 SERVINGS
4-6 as an appetizer
Ingredients
For the Wings
3 pounds LM Meat split chicken wings, discard the wing tips or save for stock
1-1/2 teaspoons kosher salt
1/2 teaspoon black pepper
Vegetable oil, for grill
For the Seasoned Buffalo Sauce
6 tablespoons unsalted butter
1 clove garlic, minced
1/4 cup plus 2 tablespoons Frank's Red Hot Original Cayenne Pepper Sauce (or similar brand)
1/4 teaspoon kosher salt
1/2 teaspoon onion powder
1/2 teaspoon chili powder
3/4 teaspoon sugar
Instructions
1. Heat the grill to medium-high. Season the wings with salt and pepper.
2. Using grill tongs, dip a wad of paper towels in oil, then carefully rub the grill grate until glossy and coated. Grill the wings, covered, flipping occasionally, until they are golden brown, crispy and completely cooked through, about 20 minutes. Keep a close eye on the grill: if there are flare-ups or the wings begin to burn, move the wings to a cooler part of the grill or reduce the heat. You don't want grill marks on the wings; just a nice and even golden-brown color.
3. While the wings are cooking, make the sauce. Combine the butter and garlic in a microwave-safe bowl. Cook for about one minute in the microwave until the butter is melted. Stir in the hot sauce, salt, onion powder, chili powder and sugar. Set aside.
4. Dip the cooked wings in the sauce and serve immediately. Alternatively, serve the wings plain with the sauce on the side.