Roasted Chicken Legs with Onions
Inspired by Ricardo Cuisine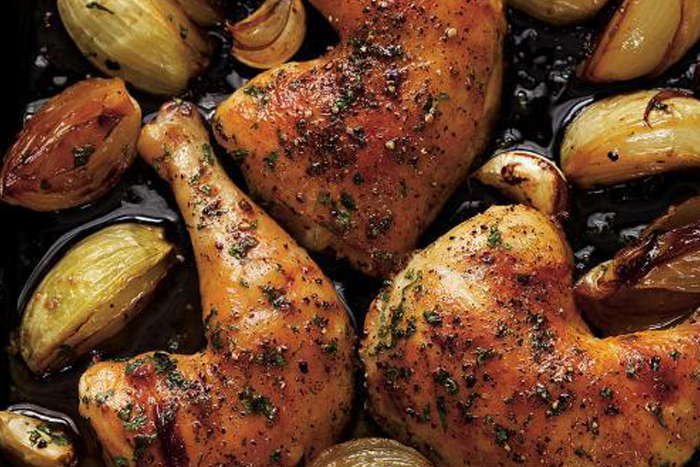 Ingredients
4 LM Meat chicken legs, with skin
4 onions, peeled and quartered
1/4 cup (60 ml) olive oil
8 cloves garlic, unpeeled
3 tablespoons (45 ml) chopped fresh cilantro
Juice of 1 lime
2 teaspoons (10 ml) black peppercorns, crushed
2 tablespoons (30 ml) honey
Salt
Preparation
1. With the rack in the middle position, preheat the oven to 200 °C (400 °F).
2. In a large skillet, brown the onions in 30 ml (2 tablespoons) of oil. Set aside.
3. In a large baking dish, combine the chicken legs with the onions and the remaining ingredients, except for the honey. Season with salt. Brush the legs with the honey.
4. Bake for about 1 hour or until the meat separates easily from the bone. Mid-cooking, baste the legs with the cooking juices. Serve with Pineapple and Bell Pepper Ketchup (see recipe) and and a green vegetable, like wilted spinach.