Simple Grilled BBQ Split Chicken Breast
Simple Grilled BBQ Split Chicken Breast
Simple Grilled BBQ Split Chicken Breast
Inspired by Dan Mikesell from 101 Cooking for Two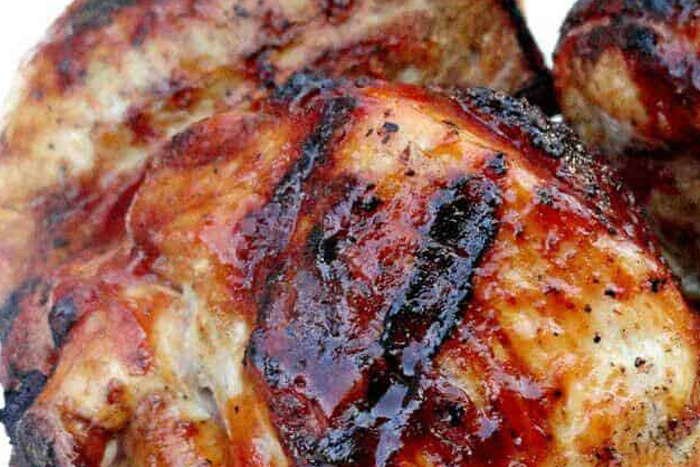 Ingredients
Instructions
1. Preheat gas grill to a surface temperature of 450°. That is medium on my grill but is usually medium-high on most grills. Clean and oil.
2. Pat dry chicken. Trim loose fat and rib section. Then cut the split chicken breasts into 2-3 equal pieces each.
3. A light brushing with oil and you're good to go.
4. Place the chicken pieces skin side up and grill for 5 minutes. Flip over with skin down for 4 minutes. Continue cycles of 5 minutes when skin is up and 4 minutes when skin is down.
5. Create a cooler zone for cooking. If you only have two burners, turn one burner down at about 10-15 minutes into the cooking. If you have 3 or more burners, turn one end burner down at the beginning of cooking.
6. With smaller pieces and pieces cooking or browning too fast, move them to the lower temperature area as needed.
7. When the chicken nears done, brush with BBQ sauce about 5 minutes before the end of cooking and then again the last few minutes.
8. Grill until an internal temp of 165°. Total cooking time for me about 30 minutes.
Notes
Pro Tips:
1. Get grill surface temperature correct.
2. Trim and cut up chicken. Large pieces don't cook well.
3. Keep skin up as much as possible to prevent burning.
4. Have a cooler zone to move smaller pieces to while grilling.
5. BBQ near the end to prevent burning.
6. Done when the internal temperature is 165°.