BBQ Mutton leg with spring chopped salad
BBQ Mutton leg with spring chopped salad
BBQ Mutton leg with spring chopped salad
Inspired by Curtis Stone from taste.com.au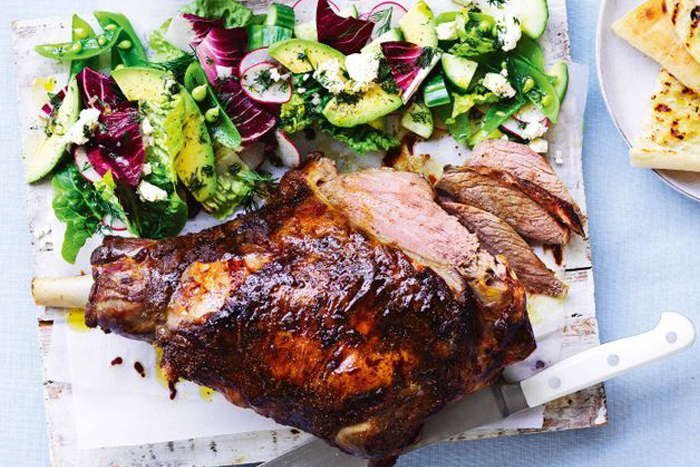 Ingredients
2.5kg LM Meat Mutton leg
6 tablespoons extra virgin olive oil, divided
1 tablespoon ground coriander
1 tablespoon ground cumin
2 lemons, rind finely grated, juiced
2 tablespoons finely chopped shallots
2 tablespoons finely chopped fresh dill
4 radishes, thinly sliced
1 head cos lettuce, thinly sliced (about 8 cups)
1 small head radicchio, thinly sliced (about 4 cups)
Method
Step 1
Prepare a covered barbecue for indirect cooking on medium-high heat (190C) by lighting the burners under the flat plate. In a small bowl, combine 2 tablespoons of the oil with the coriander, cumin, 2 teaspoons salt and 1 teaspoon pepper. Coat the lamb with the spice mixture. Lay lamb, fat-side down, on barbecue flat plate. Close barbecue hood and cook for 10 mins or until well browned.
Step 2
Transfer lamb to a baking pan, fat-side up, and move to unlit side. Cook, rotating pan halfway through cooking, for 50 mins or until an instant-read meat thermometer inserted into thickest part of lamb registers 54°C. Transfer the lamb to a carving board and rest for 15 mins.
Step 3
In a large bowl, whisk lemon rind, 1/4 cup (60ml) lemon juice, shallots, dill and remaining 4 tablespoons oil. Season with salt and pepper. Reserve 1/4 cup of the dressing. Add the radishes, lettuce, radicchio, cucumber and sugar snap peas to the remaining dressing in the bowl and toss to combine.
Step 4
Arrange the chopped salad on a serving platter with the avocado and fetta. Drizzle with reserved dressing. Carve the lamb and arrange alongside the salad. Serve with charred bread.