Best Mutton Biryani
Inspired by Farraukh Aziz from Cubes n Juliennes
Mutton Biryani is a royal dish with beautifully spiced and fragrant layers of biryani rice centered with juicy, tender mutton (goat meat or lamb) and spices.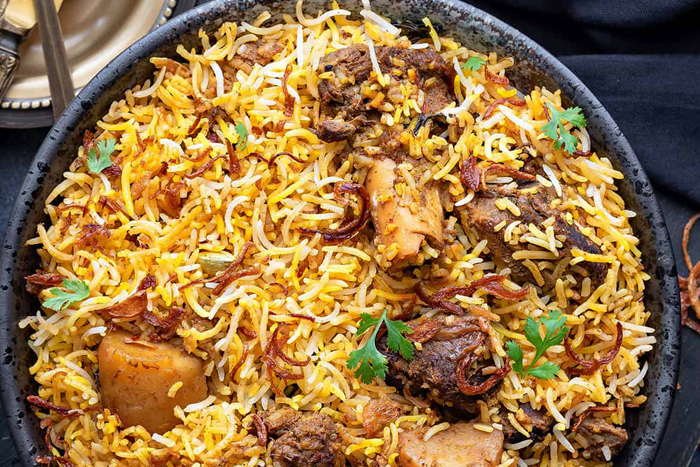 Ingredients
To grind to a paste (for marination)
¼ cup Coriander Leaves tightly packed
4-5 Green Chilies you may adjust as per preference
16-18 Garlic Cloves
3 inches Ginger Piece
1 teaspoon Peppercorns
5-6 Cardamom
6-8 Cloves
To marinate the mutton
1 Kg LM Meat Bone in mutton stew, Cut in medium sized pieces
1 cup Thick Yoghurt
¼ cup Golden Fried Onions (birista)
½ tablespoon Garam Masala Powder
Salt To Taste
For biryani gravy
8 tablespoons Vegetable Oil divided
5 Potatoes medium, cut in large cubes
2 Onions large, finely sliced
2 inch Cinnamon Stick
2 teaspoons Cumin Seeds
1 teaspoon Turmeric Powder
3-4 teaspoons Kashmiri Red Chili Powder
1 tablespoon Coriander Powder
Water as needed
2 Tomatoes large, sliced
4-5 Green Chilies slit or sliced
To cook the rice
4 cups Long Grain Basmati Rice
Water as needed
2– 3 Bay Leaves
1 ½ inch Cinnamon Sticks
1 teaspoon Caraway Seeds (shajeera) or Cumin Seeds
3– 4 Cloves
5– 6 Green Cardamom
1 Star Anise
1 tablespoon Ghee
For layering the biryani
¼ cup Mint leaves
3 tablespoons Ghee
A generous pinch of saffron soaked in 4 tablespoons of milk
⅓ cup caramalised onions or fried onions (Birista)
Instructions
Preparation and marination
1. Add all the ingredients mentioned under "masalas to grind to paste" into a blender. Blend everything together to a fine paste.
2. In a large bowl, add ground masala paste, ¼ cup birista, whisked yogurt and garam masala powder along with salt.
3. Add clean and washed mutton and mix well. Allow the mutton to marinate for atleast 2 hours under refrigeration. (preferable – over night)
4. Clean and wash biryani rice and soak it for 45 minutes. Strain the rice and set it aside.
Making the biryani gravy
1. Heat 3 tablespoons of oil in a pan, add potato cubes. Fry the potatoes until golden. Take them out and set it aside.
2. Heat reamining oil in a handi. Then, add sliced onions, salt and fry until pink and soft. Add cinnamon sticks and cumin seeds and cook.
3. Further, fry until the onions starts picking up golden colour, do not over brown or burn it.
4. Add marinated mutton and saute on high 5-6 minutes until raw small goes off.
5. Add turmeric powder, red chili powder and coriander powder and mix.
6. Add 2 cups of water, cover and cook the mutton until tender. Keep stirring at regular intervals. If water dries up, you may add more.
7. Add tomato slices, fried potatoes and chilies and cook for another 6-8 minutes.
8. Carefully scoop out the layer of oil in a bowl and set it aside for later use.
Cook the biryani rice
1. In a large pot, add enough water, bay leaves, cinnamon sticks, shajeera (or cumin seeds), cloves, cardamom, star anise, ghee and salt. Bring it to a boil.
2. Once the water starts boling, strain the soaked rice and add into boiling water.
3. Cook the rice until 90 percent done. Immediately strain the water and set the rice aside.
Layer and slow cook (dum) the biryani
1. In a large pot in which you want to dum (slow cook) the biryani, add half the cooked rice as a bottom layer.
2. Add cooked mutton masala and spread evenly.
3. Sprinkle mint leaves, 1 tablespoon ghee, ½ of the soaked saffron and birista on the mutton.
4. Add the remaining rice over the mutton layer evenly.
5. Add remaining ghee, saffron milk and reserved oil that we scooped out from the mutton masala.
6. Put a clean cotton cloth over the top and cover it with the lid putting heavy weight on the top of the lid.
7. Dum the mutton biryani for 20 minutes, first on high flames for 5 minutes and then simmer for 15 minutes.
8. Let it to rest for 15 minutes.
9. Carefully dish it out. Serve steaming hot biryani with raita of your choice.
Notes
1. You can choose to skip potatoes if you do not like or prefer it.
2. I have made biryani masala gravy in a pot, but you can make it in pressure cooker as well. Pressure cooking will save the time.
3. If you are making masala in pressure cooker, then do not add too much water as it will make watery masala base for the biryani. ¾ to 1 cup of water is good enough to pressure cook the mutton. Pressure cook it upto 2-3 whistles only. Mutton will further be cooking with rice.
4. Also, add tomatoes, fried potatoes and chilies after the mutton is pressure cooked for 2 whistles. Cook the biryani gravy for 5-6 minutes (without the lid).