Caribbean Goat Stew
Inspired by Love and Duck Fat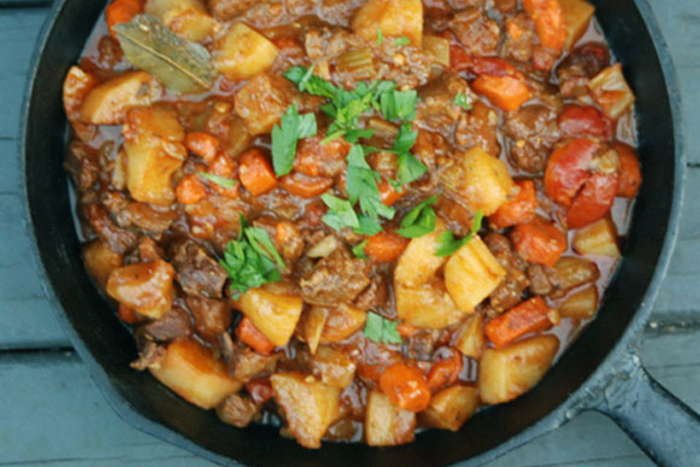 Ingredients
2 pounds LM Meat bone in goat stew, cubed
Salt and freshly ground pepper
4 tablespoons olive oil
1 tablespoon grated ginger
1 large onion, diced
4 cloves garlic, minced
3 large carrots, chopped
3 stalks celery, chopped
1 scotch bonnet pepper (or 1 teaspoon scotch bonnet pepper sauce)
5 tablespoons curry powder
1 bay leaf
1 tablespoon ground allspice
1 teaspoon ground cinnamon
1 tablespoon tomato paste
2 cups chicken or beef stock
1 cup water or white wine
2 tomatoes, chopped
4 Yukon Gold potatoes, cut into 1.5" chunks
¼ cup chopped parsley
Method
Season the goat meat with salt and pepper and pat dry. Using a heavy skillet, brown the goat (in batches) in olive oil over medium heat. Remove from the pan and set aside. Add onions and ginger to the pan and cook until soft, about 5 minutes. Add the garlic, carrots, celery, scotch bonnet pepper (if using), curry powder, bay leaf, allspice and cinnamon. Cook and stir another 5-10 minutes.
Add the tomato paste, stock and water (or wine) to the pan. Return the goat meat to the pan. Bring to a simmer, then cover and cook for 40 minutes on low heat.
After 40 minutes, add the potatoes and tomatoes. Cook for an additional 30 minutes. Taste for seasonings and heat. Add salt and freshly ground pepper as needed. Sprinkle with parsley before serving.