Goat Shawarma
Inspired by Patty Lee from Heritage Foods
You'll get a main course for six to eight—or stuffed pita pocket sandwiches for many more.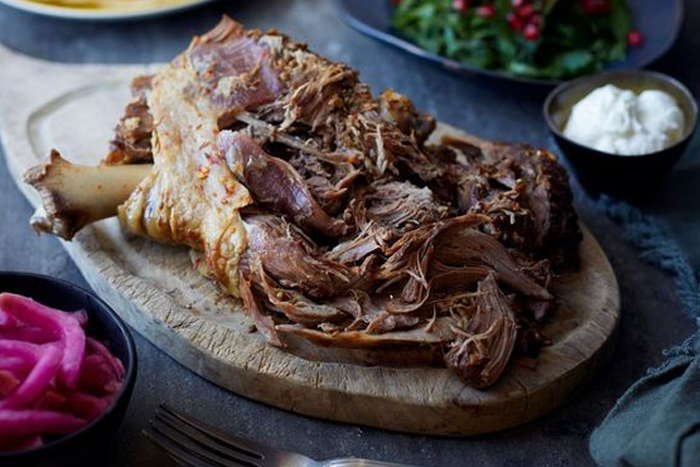 Ingredients
One 4-pound (1.8-kg) LM Meat leg of goat
6 medium garlic cloves, peeled, then mashed with the side of a heavy knife or put through a garlic press
2 tablespoons olive oil
2 teaspoons salt
1-1/2 teaspoons ground mace
1-1/2 teaspoons ground cardamom
1-1/2 teaspoons mild paprika
1 teaspoon ground cinnamon
1 teaspoon ground cumin
1/2 teaspoon cayenne pepper
Instructions
1. Mix the garlic, olive oil, salt, mace, cardamom, paprika, cinnamon, cumin, and cayenne in a small bowl. Smear it all over the goat leg and set the leg in a big, heavy roasting pan.
2. Set the rack in the oven's middle and crank the oven up to 350 degrees F (175 degrees C). It'll take about 15 minutes. Leave the goat leg in the pan on the counter the whole time so that the flavors of the spice mixture will begin to infuse the meat at room temperature.
3. Roast the leg in its pan until an instant-read meat thermometer inserted into the thickest part of the meat without touching bone registers 160 degrees F (71 degrees C), about 2 hours. Transfer the leg to a carving board and leave it alone for 10 minutes.
4. Now you'll need to carve it. And doing so with a goat leg can be tricky. Position the leg on your carving board with the meatier side up. Starting at the fatter end of the leg, slice the meat against the grain. If you take a thin slice off the top, you'll see which way the meat's fibers are running, sort of like the grain in wood. Now, position the leg so that you're slicing at a 90-degree angle from the way the "grain" is running. But here's the tricky part: There are several muscle groups in a leg. Once you get through one, the grain will change and go a different direction in another part. You'll have to keep turning the leg to slice thin strips against the grain. There's a little bit of trial and error here, but don't worry: No one's going to know the difference if a couple of slices are going with the grain.