Punjabi Mutton Curry
Inspired by TNN from Times Food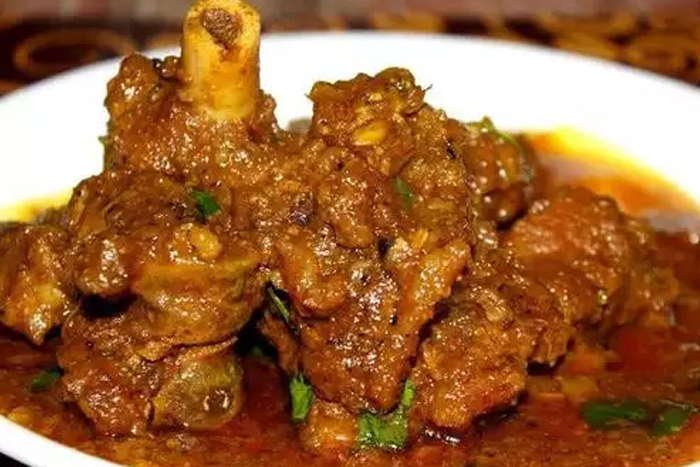 Ingredients
500 gm LM Meat bone in mutton stew
2 tablespoon coriander powder
4 onion
2 teaspoon garlic paste
4 clove
5 green cardamom
1 cinnamon stick
salt as required
2 cup water
4 tablespoon ghee
1/2 cup yoghurt (curd)
2 teaspoon ginger paste
2 teaspoon red chilli powder
3 tomato
8 peppercorns
1 teaspoon garam masala powder
1/2 teaspoon turmeric
For Garnishing
1 handful coriander leaves
How to make Punjabi Mutton Curry
Step 1 Heat oil, cook the whole spices with onion & ginger-garlic paste
This is an excellent mutton recipe that you can easily make at home. To prepare this easy recipe, firstly, clean and wash the mutton pieces. Next, put a large pan over medium flame and melt ghee in it. Once the ghee is melted, add cardamom, cloves, black peppercorns, cinnamon stick. Saute these for a minute and add the sliced onions along with salt in it. Saute till the onion turns light brown in colour. Next, add the ginger paste along with garlic paste and cook the mixture until the raw smell disappears.
Step 2 Add the powdered spices, tomatoes & mutton pieces
Now, add turmeric powder, red chilli powder and coriander powder to the fried onion and mix it well. Add the mashed tomatoes and mix it well with the other ingredients. Make sure the tomatoes turn pulpy and cook this mix until oil separates from the masala in the pan. Now, add mutton pieces in this masala and mix it well. Ensure that mutton pieces are evenly coated with the masala.
Step 3 Add the yoghurt, coriander leaves & garam masala
Pour the yoghurt in the mutton masala and mix it well. Let it cook for 4-5 minutes and, then, add water in it. Stir it well and check the seasoning once. Then, add chopped coriander leaves along with garam masala powder. Give it a quick stir. Cook it for another 25 minutes to ensure that mutton is no longer raw and is perfectly juicy. Once done, take it off the flame and transfer the dish in a bowl. Serve it hot with rice or naan to enjoy!
Tips
1. You can also use mustard oil as the base of this mutton curry for an authentic taste.
2. You may also add boiled potatoes to the curry for a true Punjabi taste.
3. Nicely fry the onion until they are browned. The colour of the onion will determine the final colour of your Punjabi mutton curry.
4. Use curd that has a slightly sour taste. It adds a tangy touch to the mutton curry.