Spaghetti and Goat Sauce
Inspired by Cooking with Thasneen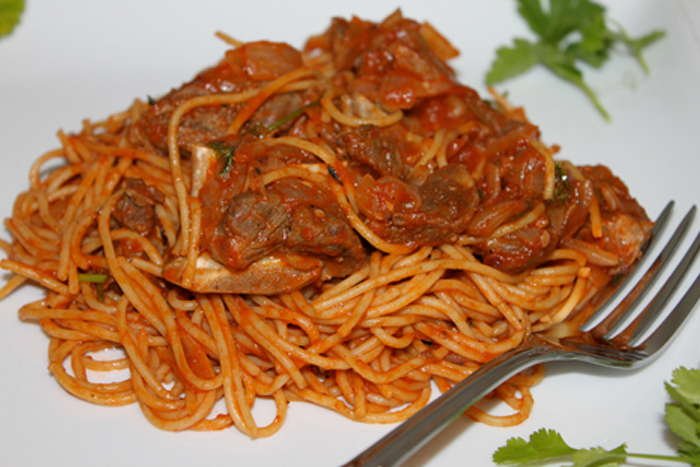 Ingredients
1 pound LM Meat Goat shoulder meat, boneless or boned cubed
Spaghetti- half pound
Salt- for pasta water
Ground Pepper- ¼ tsp
Thyme- 2 sprigs
Salt- to cook meat
Onion, chopped- 2
Garlic, minced- 1tsp
Dry red pepper crushed- 1tsp
Tomato paste- 1 cup or 8 ounces
Worcestershire sauce- 1tbsp (optional)
Parsley leaves or cilantro, chopped- 2 handful
Olive oil- 2tbsp
Parmesan cheese, grated- to sprinkle on the dish according to your needs
Instructions
Cooking Spaghetti and Goat meat:
1. Cooking Spaghetti and Goat meat:
2. Place a large pot of water on to a boil for spaghetti.
3. When it boils, add salt and add pasta.
4. Cook the pasta till it becomes tender, drain the water and keep aside.
5. In a pressure cooker, combine goat meat, ground pepper, salt and thyme sprigs.
6. Add enough water to the goat meat and pressure cook it until the meat is completely cooked and is tender.
7. After the meat has cooked thoroughly, don't strain the water left in the cooker along with the meat, we will be using this flavorful water while making the sauce.
Making the Goat Sauce:
1. Heat a wide non-stick pan on medium heat, add olive oil.
2. To the oil, add red pepper crushed, saute and immediately add chopped onions to it and saute till tender.
3. Add garlic and saute for couple of minutes.
4. Add tomato paste and cook until well combined.
5. Now, add the cooked goat meat along with the water from the cooked meat and combine everything well.
6. Add Worcestershire sauce and give it a stir.
7. If there is too much water, simmer it and let the sauce thicken.
8. Add the cooked spaghetti to the thickened sauce and toss the paste in the sauce.
9. Garnish with fresh parsley leaves or cilantro, remove from the stove and keep it covered.
10. If you wish you could even sprinkle parmesan cheese on top.
11. Serve hot and dig in this irresistible spaghetti and goat sauce.