Special Mutton Leg Roast For Eid-ul-Azha
Inspired by Asim Saeed from Allrecipes
Special mutton leg roast recipe that is filled with tender, juicy, finger-licking taste to enjoy with your family and add cheer to your festive get-together on this Eid-ul-Azha. Garnish with seasonal salad such as cucumber, onion rings, salad leaves, lemon, and tomato slices. Serve with raita and enjoy with hot chapati.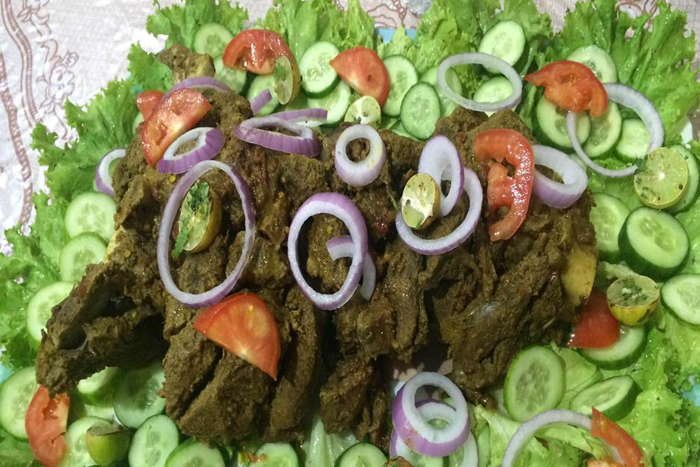 YIELD
1 5-pound mutton roast
Ingredients
1 (5 pound) LM Meat mutton leg, trimmed of excess fat
4 cups plain yogurt
4 tablespoons ginger-garlic paste
3 tablespoons lemon juice
2 tablespoons ground red chile pepper
2 tablespoons chaat masala
2 tablespoons garam masala
1 tablespoon salt, or to taste
1 tablespoon red pepper flakes
1 tablespoon ground turmeric
1 tablespoon ground black pepper
1 tablespoon ground cumin
1 tablespoon ground coriander
1 cup vegetable oil
Directions
Step 1
Cut deep slashes about 2 inches apart across the lamb.
Step 2
Mix yogurt, ginger-garlic paste, lemon juice, ground red chile, chaat masala, garam masala, salt, red pepper flakes, turmeric, black pepper, cumin, and coriander together in a bowl. Whisk until well combined. Apply marinade generously all over the lamb in a dish; turn over and apply more marinade. Cover and refrigerate for 3 hours to overnight.
Step 3
Heat oil in a large cast-iron pot over medium heat. Place the lamb leg gently into the bottom of the pot. Cover and place a heavy weight on top of the lid. Reduce heat to low and cook for 1 hour. Turn leg over and cook for another hour.
Step 4
Continue cooking lamb until liquid is mostly evaporated and meat is tender and golden, about 15 minutes more. Oils should start collecting at the edges of the lamb. An instant-read thermometer inserted into the center should read at least 130 degrees F (54 degrees C). Transfer meat to a serving dish.