Best Ever BBQ Spicy Cumin Lamb Spiedini
Best Ever BBQ Spicy Cumin Lamb Spiedini
Best Ever BBQ Spicy Cumin Lamb Spiedini
Inspired by boltonmin from Bolton Foods
These are the best BBQ Spicy Lamb Spiedini you've ever tasted.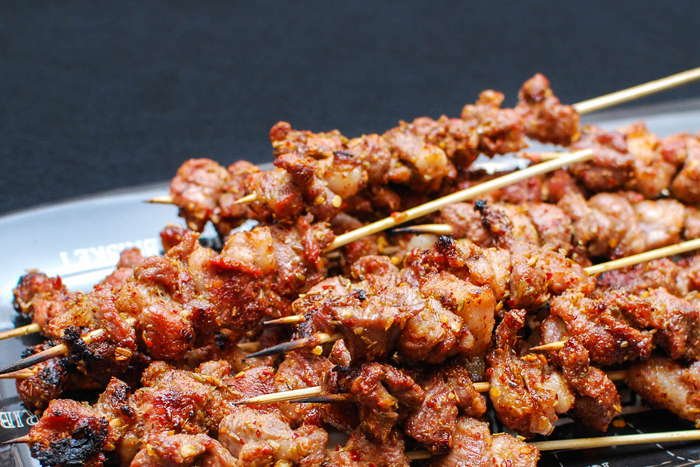 Ingredients
1 Tablespoon Red Chili Flakes
1 Tablespoon Whole Cumin Seeds
2 Tablespoon Whole Fennel Seed
2 Teaspoon Granulated Garlic Powder
1 Teaspoon Each Kosher Salt, Fresh Cracked Pepper, Brown Sugar
1 Tablespoon Lemon
2 Tablespoon Vegetable Oil
1⁄4 Cup Fresh Cilantro, Chopped For Garnish (Optional*)
Directions
In a mortar and pestle or spice grinder, combine red chili flakes, cumin, fennel and garlic powder and grind to a coarse spice grain, add in salt, pepper and sugar, lemon juice and vegetable oil and mix. Allow your Lamb Spiedini to come to room temperature and place on a lined baking sheet, and coat and massage thoroughly with 3/4th of your spice, juice and oil mixture; allow to rest for 5 minutes.
Preheat your BBQ on high heat and allow it to come to temperature before turning to low and placing Spicy Cumin Lamb Spiedini on a hot grill. Allow to cook for 3-4 minutes before brushing with remaining spice mixture and turning over for remaining 5 minutes or until nicely seared. Remove from the grill, plate and serve garnished with chopped cilantro and fresh yogurt for dipping! Enjoy.