Cast Iron Lamb Loin Chops with Herbs and Cognac Butter Sauce
Cast Iron Lamb Loin Chops with Herbs and Cognac Butter Sauce
Cast Iron Lamb Loin Chops with Herbs and Cognac Butter Sauce
Inspired by Shawn Williams from Kitchen Swagger
Lamb loin chops seasoned with fresh rosemary and oregano and seared in a cognac butter sauce in a cast iron skillet.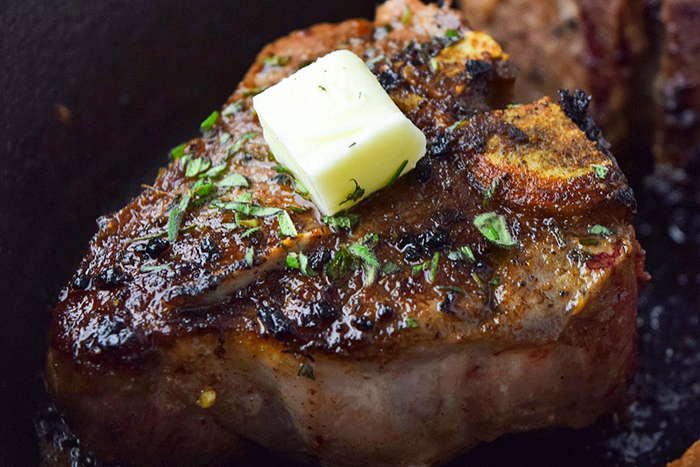 Ingredients
1 tablespoon extra virgin olive oil
2 garlic cloves, minced
2 teaspoons fresh oregano, finely chopped
2 teaspoons fresh rosemary, chopped
2–3 tablespoons butter
1/4 cup cognac or brandy
Salt and pepper to taste
Directions
Step 1
Remove loin chops from the fridge 20-30 minutes before cooking. Season liberally with salt and pepper.
Step 2
In a large skillet, heat the olive oil on high until hot. Place the loin chops in the skillet and cook undisturbed for 3-4 minutes. It's important not to touch or adjust the lamb so the sides can sear up in the skillet. Flip and cook for an additional 3-4 minutes.
Step 3
Add the butter, cognac, garlic, and fresh herbs to the skillet and swirl/stir until fully melted. Simmer for an additional 1-2 minutes, occasionally turning the loin chops in order to soak up cognac butter sauce. For medium rare, the lamb is done. Sear for an additional minute for each level of doneness; about 3-4 minutes for medium/medium well.
Step 4
Remove from heat, place on plate and drizzle with Cognac butter sauce. Garnish with butter and fresh herbs if desired and serve.