Instant Pot Lamb Shank
Inspired by Amy + Jacky from Pressure Cook Recipes.com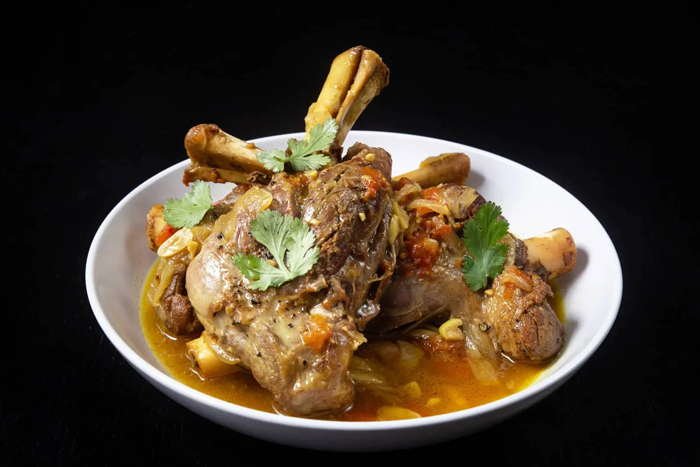 COURSE
Dinner, Entree, Main
Ingredients
3 – 4 (1284g) LM Meat lamb shanks
2 tablespoons (30ml) olive oil
8 (34g) garlic cloves, sliced
2 (311g) tomatoes, quartered
1 (281g) large onion, sliced
1 cup (250ml) unsalted chicken stock
2 teaspoons (5g) ground cumin
½ teaspoon (1.5g) cinnamon powder
½ teaspoon (1.5g) turmeric
½ teaspoon (1g) ground coriander seed
Salt and black pepper to taste
Garnish
Equipment
Instant Pot Pressure Cooker
Instructions
1. Brown Lamb Shank in Instant Pot: Heat up Instant Pot using Sauté More function. Wait until it says HOT (~8 mins) – you want Instant Pot to be as hot as it can be for the maillard reaction.
Pat dry the lamb shanks, then season one side with salt & black pepper. Drizzle the inner pot with 2 tbsp (30ml) olive oil. Then, place the seasoned side of the lamb shanks in Instant Pot. Season the other side with more salt & black pepper. Brown each side for 5 mins to develop some awesome deep flavors.
Note: If you prefer to "dump-it-all-in", skip the browning & saute steps.
2. Saute Onion and Spices: Set browned lamb shanks aside. Add in sliced onions, then saute until softened (~2 – 3 mins). Add in sliced garlic, 2 tsp (5g) ground cumin, ½ tsp (1.5g) cinnamon powder, ½ tsp (1.5g) turmeric, and ½ tsp (1g) ground coriander seed. Saute for another minute.
3. Deglaze Instant Pot: Pour 1 cup unsalted chicken stock in Instant Pot, then deglaze by scrubbing the flavorful brown bits off the bottom of the pot with a wooden spoon.
4. Pressure Cook Lamb Shanks: Place browned lamb shanks back in Instant Pot and partially submerge them into the liquid as best as possible. Layer the quartered tomatoes on top.
With Venting Knob at Venting Position, close the lid, then turn Venting Knob to Sealing Position. Pressure Cook at High Pressure for 36 minutes + 15 minutes Natural Release. After 15 minutes, release remaining pressure by turning Venting Knob to Venting Position. When Floating Valve drops, open the lid carefully.
5. Taste and Season Lamb Shank: Set aside lamb shanks. Use a fork to test if the lamb shanks are tendered enough. Bring sauce back to a boil with the "Saute" function, then let it thicken a bit. Taste and adjust seasoning accordingly.
6. Serve Instant Pot Lamb Shank: This recipe is best made the day before serving! With proper seasoning, the flavors will really penetrate & come together the next day. Submerge the lamb shanks back in the sauce. Chill the whole inner pot, then place it in the fridge.
To serve, place the inner pot back in Instant Pot, then reheat at High Pressure for 0 (zero) minute (set the cooking time to "0 (zero)" minute with the "-" button) and Natural Release for 15 minutes. Garnish with fresh coriander & serve! Enjoy