Lamb and Rice Stuffed Cabbage Rolls
Inspired by Chef John from Allrecipes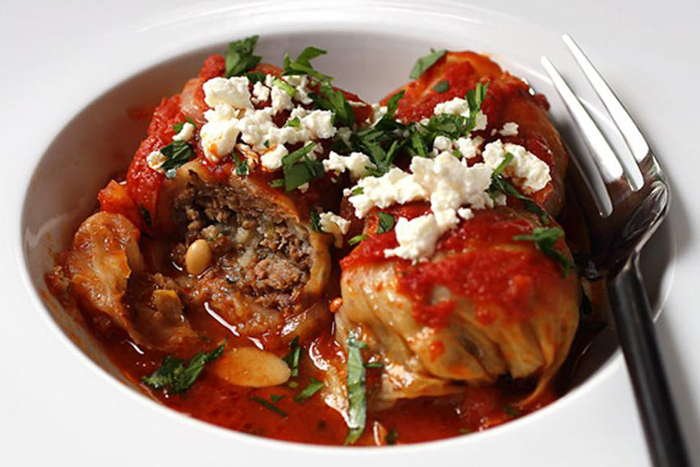 Ingredients
1 pound LM Meat ground lamb
¼ cup butter
2 tablespoons olive oil
½ onion, diced
4 cloves garlic, crushed
1 teaspoon ground black pepper
1 teaspoon ground cumin
½ teaspoon ground cinnamon
¼ teaspoon cayenne pepper
1 pinch dried oregano
1 cup white rice
2 teaspoons salt
¼ cup packed chopped Italian parsley (Optional)
2 tablespoons sliced almonds
1 tablespoon dried currants
1 head cabbage
Salt and ground black pepper to taste
2 bay leaves
1 cup tomato puree
3 ½ cups chicken broth
½ onion, sliced
¼ cup crumbled feta cheese (Optional)
2 tablespoons chopped Italian parsley (Optional)
Directions
Step 1
Melt butter in large skillet over medium heat; heat oil in the melted butter. Cook and stir 1/2 diced onion until translucent, about 8 minutes. Add garlic and cook and stir for 1 minute. Remove from heat. Stir in 1 teaspoon black pepper, cumin, cinnamon, cayenne pepper, and oregano. Set aside to cool to room temperature.
Step 2
Combine lamb, rice, 2 teaspoons salt, 1/4 cup parsley, almonds, and currants in a large bowl. Add cooled onion mixture and mix until combined. Cover and place in the refrigerator until ready to use.
Step 3
Fill a large pot halfway with water and bring to a boil. Remove the core from the cabbage head and place the head in the boiling water. Cover and simmer until leaves begin to fall away, about 5 minutes. Remove the 2 outer layers of leaves to a paper towel-lined plate, cover and continue cooking for 1 to 2 more minutes. Remove the remaining large leaves to the plate. You will need 8 large and about 7 smaller leaves.
Step 4
Preheat oven to 350 degrees F (175 degrees C).
Step 5
Take 1 cabbage leaf and remove the root end. Place about 1/2 cup of the lamb mixture toward the bottom edge of the cabbage leaf and roll into a log. Repeat with remaining lamb mixture and 7 more large leaves to create 8 cabbage rolls.
Step 6
Line the bottom of a large casserole dish or Dutch oven with 4 or 5 smaller cabbage leaves. Place cabbage rolls on top; season with salt and black pepper. Add bay leaves and tomato puree. Pour in chicken broth. Sprinkle 1/2 sliced onion over the top and cover with 3 or 4 more cabbage leaves. Cover casserole.
Step 7
Bake in the preheated oven until the lamb is tender and the rice is cooked, 1 hour and 15 minutes to 1 hour and 30 minutes. Remove from the oven and allow to rest for 30 minutes. Serve with pan juices poured over the top and garnished with feta cheese and 2 tablespoons parsley.