Lamb Burgers with Feta Tzatziki Spread
Lamb Burgers with Feta Tzatziki Spread
Lamb Burgers with Feta Tzatziki Spread
Inspired by Anne Burrell from Food Network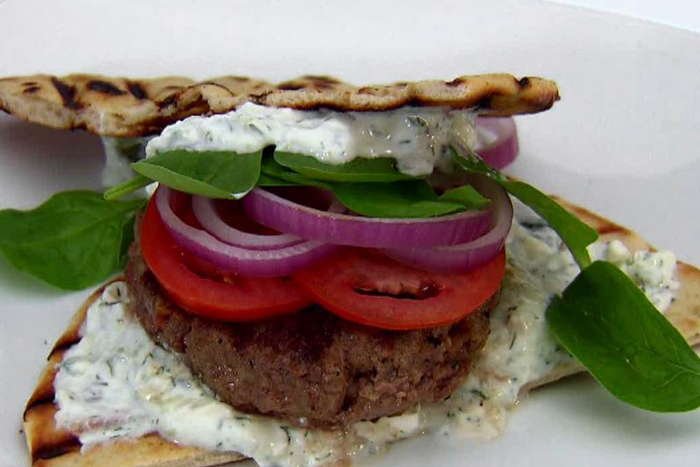 Ingredients
Extra-virgin olive oil
Kosher salt
Pinch crushed red pepper
2 cloves garlic, finely smashed
2 sprigs fresh oregano, finely chopped
1/2 bunch fresh dill, finely chopped
1/2 bunch fresh mint, finely chopped
Zest of 1/2 lemon
4 whole wheat pitas or 4 seeded hamburger buns
Feta Tzatziki Spread
1 beefsteak tomato, sliced, for garnish
2 cups baby spinach, for garnish
2 red onions, 1 cut into 1/4-inch dice and 1 sliced, for garnish
Feta Tzatziki Spread
2 cups plain Greek yogurt
1/2 cup crumbled feta
1 tablespoon white wine vinegar
2 cloves garlic, smashed and finely chopped
2 sprigs fresh mint, leaves cut into chiffonade
1 small bunch fresh dill, finely chopped
1/2 English cucumber, coarsely grated
Kosher salt
Directions
Step 1
Coat a large saute pan with olive oil, toss in the diced onions and season with salt and crushed red pepper. Bring the pan to medium-high heat and cook the onions for 3 to 4 minutes. Add the garlic and cook for 2 to 4 more minutes. Turn the heat off and let cool.
Step 2
In a large bowl, combine the lamb, the cooled onion mixture, the oregano, dill, mint, lemon zest and 1/2 to 3/4 cup water. Sprinkle with salt and combine well. Make a little "tester patty." Cook it and taste for seasoning.
Step 3
Preheat the grill.
Step 4
Form the lamb mixture into 4 equal patties and sprinkle with salt. Grill the burgers to your desired doneness, 4 to 5 minutes per side for medium-rare. Remove the burgers from the grill and let rest for 3 to 4 minutes.
Step 5
Cut the pitas in half. Schmear each half generously with the Feta Tzatziki Spread. Top one half with a burger, then tomatoes, sliced onions and spinach. Place the other pita half on top.
Feta Tzatziki Spread
Step 6
Combine the yogurt, feta, vinegar, garlic, mint, dill and cucumbers. Season with salt. Let sit for at least 1 hour at room temperature before serving.