Marinated Greek Lamb Souvlaki (Skewers) with Pita and Tzatziki
Inspired by Eli K. Giannopoulos from My Greek Dish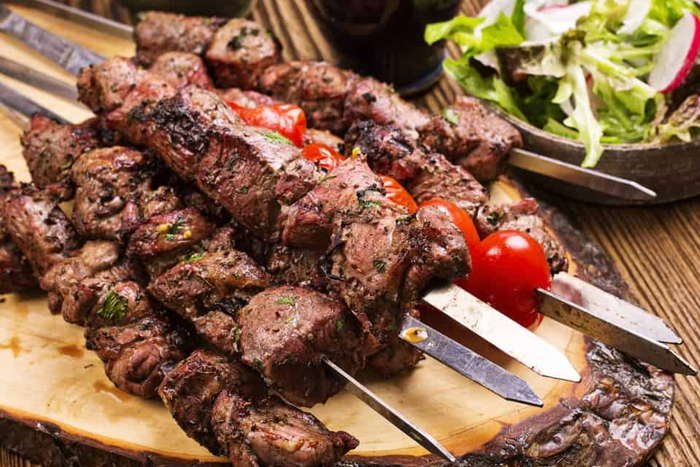 Ingredients
80ml olive oil (approx. 5–6 tbsps)
2 cloves of garlic, crushed
Juice of 1 lemon
2 red onions, roughly chopped
1 tsp dried Greek oregano
1 tsp dried thyme or some fresh thyme, chopped
1/2 tsp smoked sweet paprika (optional)
1/2 tsp cumin (optional)
Salt and freshly ground pepper
10 metal or wooden skewers
For the Tzatziki Sauce
1 cucumber
2 cloves of garlic, minced
1/4 of a cup extra virgin olive oil
500g of strained yogurt (18 ounces)
1–2 tbsps of red wine vinegar
A pinch of salt
To Serve
10 pita breads
Olive oil
1 tsp dried oregano
Salt
Instructions
1. Prepare the marinade for the lamb kebab. In a large bowl add the olive oil, garlic, lemon juice, the herbs and spices and season with freshly ground pepper – don't add salt yet. Whisk all the ingredients to combine. Add the meat and the chopped onions and blend to coat. Cover the bowl with plastic wrap, chill and let marinade for at least 4 hours. It's best to leave the meat for the lamb souvlaki marinade overnight, to soak up all the wonderful flavours. (If you are at home blend the marinade once in a while).
2. In the meantime prepare the tzatziki sauce. Pour in a blender the olive oil and grated garlic and blend until combined. Remove the skin and the seeds of the cucumber and grate it into a large bowl. Season with salt and pepper and leave aside for 10 minutes. Wrap the grated cucumber in a towel and squeeze, in order to get rid of the excess water. In a bowl, add the cucumber, the blended garlic and oil, the yogurt, 1-2 tbsps of red wine vinegar, a pinch of salt and blend, until the ingredients are combined. Store the tzatziki sauce in the fridge and always serve cold.
3. To assemble the lamb kebab you can either use wooden or metal skewers. For this lamb souvlaki recipe, you will need about 10 skewers, depending on the size of each souvlaki. If using wooden skewers, cut them to fit your griddle pan and soak them in water. (This will prevent them from burning.) Lift the chunks of lamb out of the marinade and thread the pieces, comfortably, on the skewers. At this point don't forget to season your lamb souvlaki with salt.
4. Heat a grill, barbecue or griddle pan and cook the lamb kebab for about 10-15 minutes, until cooked to your liking.
5. In the meantime prepare the pita breads. Preheat the oven to 250C. Use a cooking brush to lightly oil the pita breads on both sides and season with salt and oregano. Place a large oven tray at the bottom of the oven and place the pita breads on top of the tray. Bake for 2-3 minutes. (Alternatively barbecue the pita breads, until nicely coloured on both sides).
6. Enjoy this delicious Greek lamb souvlaki recipe with pita bread and tzatziki sauce with a nice refreshing Greek feta salad.