Mediterranean Braised Lamb Shoulder Chops
Mediterranean Braised Lamb Shoulder Chops
Mediterranean Braised Lamb Shoulder Chops
Inspired by Katie Workman from The Mom 100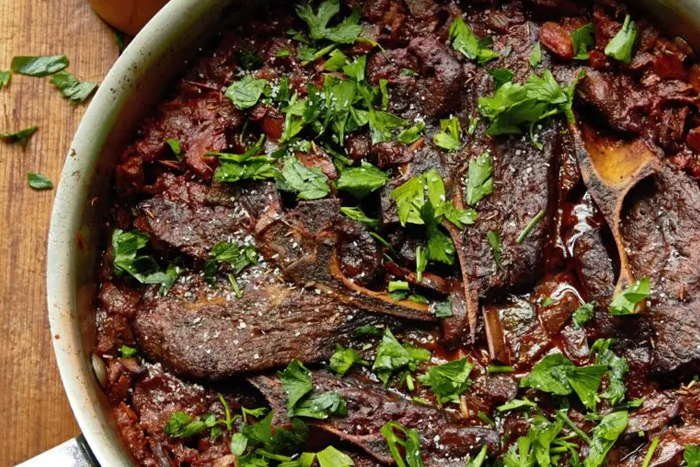 Ingredients
2 1 -inch thick LM Meat lamb shoulder chops about 2 pounds total
3 tablespoons olive oil divided
1 medium onion roughly chopped
4 large carrots roughly chopped
3 large garlic cloves minced
Kosher salt and freshly ground pepper to taste
2 cups sliced mushrooms such as button, cremini, shiitake
1 cup diced zucchini or summer squash
½ teaspoon dried thyme
2 teaspoons dried rosemary crushed
1 cup red wine
½ cup tomato sauce or pureed tomatoes
Water or chicken broth as needed
¼ cup chopped fresh parsley
Instructions
1. In a large skillet with a lid, preferably cast iron, heat 1 tablespoon of the olive oil over medium high heat. Add the onion, carrots, and garlic, season with salt and pepper, and sauté until everything is tender and starting to brown, about 7 minutes. Scrape the mixture into a small bowl.
2. Season the lamb with salt and pepper on both sides. Give the skillet a quick wipe with a paper towl (be careful; that skillet is hot!), and return the skillet to the heat. Add 1 more tablespoon olive oil, make sure the pan is very hot, then add the chops and sear for about 4 minutes on each side until the chops are browned on both sides. Transfer the chops to a plate.
3. Add the remaining tablespoon of olive oil to the pan, and then the mushrooms, zucchini, thyme and rosemary. Sauté until the mushrooms give up their liquid, and that liquid evaporates and the vegetables become tender and slightly golden, about 7 minutes. Stir in the carrot and onion mixture. Add the red wine, stir to release and browned bit from the bottom and let it reduce by a little bit, about 2 minutes, then stir in the tomato sauce and tuck the browned chops into the mixture. Cover the pan, lower the heat to medium low, and let the liquid very gently simmer for 2 hours, until the meat is very, very tender, almost falling apart. Check periodically to make sure there is still liquid in the skillet, and add a bit of water or broth if necessary.
4. Sprinkle the finished dish with the parsley. Serve the lamb chops with the pan sauce over your choice of starch.