Potato Risotto with Pan-Grilled Lamb Sausages
Potato Risotto with Pan-Grilled Lamb Sausages
Potato Risotto with Pan-Grilled Lamb Sausages
Inspired by Chick Hughes from Cooking Channel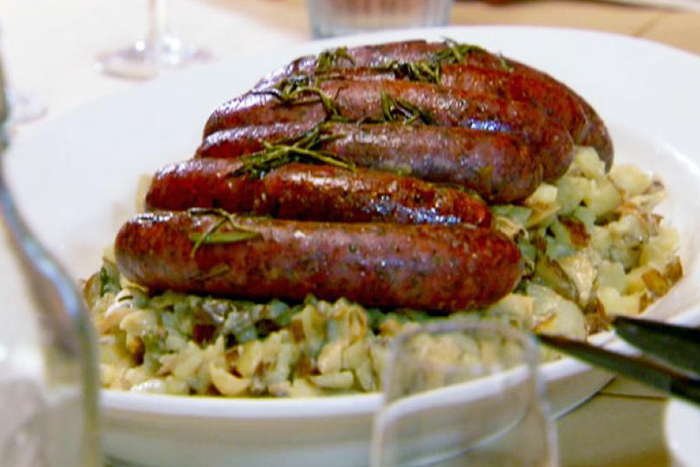 Ingredients
For the Sausages:
Water, for boiling
1 tablespoon canola oil
Fresh rosemary sprigs
For the Potato Risotto:
4 large Yukon Gold or russet potatoes, diced in 1/2-inch cubes (about 2 pounds)
Salt
3 tablespoons extra-virgin olive oil, plus more as needed
1 large shallot, minced finely
3 cups stock (chicken, vegetable, mushroom or water)
6 large fresh mushrooms (like King Eringi or Shitake), sliced thinly
Kosher salt and freshly ground black pepper
1 cup loosely packed, freshly grated Parmigiano cheese
2 to 4 tablespoons butter
Baby arugula or baby spinach, for garnish
Directions
1. To make the sausages: Parboil the sausages for about 5 minutes in a pot of boiling water. Drain.
2. Place a large pan on medium-high heat. Coat the bottom of the pan lightly with canola oil. Tear off rosemary needles roughly and toss into pan. Add sausages and pan-grill until browned on all sides, turning as needed. By the time the sausages are ready, the risotto will be ready.
3. To make the risotto: Wash and cut the potatoes into small cubes. No need to peel. Put potatoes in a saucepan, and cover with water. Add a sprinkle of salt. Bring to a boil over high heat, turn heat down and simmer about 5 min until al dente. Drain.
4. Heat the oil in a heavy, medium-sized saucepan over medium heat. Add the minced shallot, drained potatoes, with a pinch salt, and one ladleful of stock. Cook, stirring continuously, until the stock is almost fully absorbed.
5. In a separate pan, saute the mushrooms in a bit of olive oil and toss gently until they begin to brown.
6. Continue to add the stock to the potato mixture, one ladleful at a time, or until the potato is tender and creamy on the outside, about 5 to 10 minutes. Test it. If it's too soft, you won't need to add any more liquid. If it's still got a bite in the middle, you can add a bit more stock.