Spiced Rack of American Lamb with Citrus Salad
Spiced Rack of American Lamb with Citrus Salad
Spiced Rack of American Lamb with Citrus Salad
Inspired by The Original Dish from American Lamb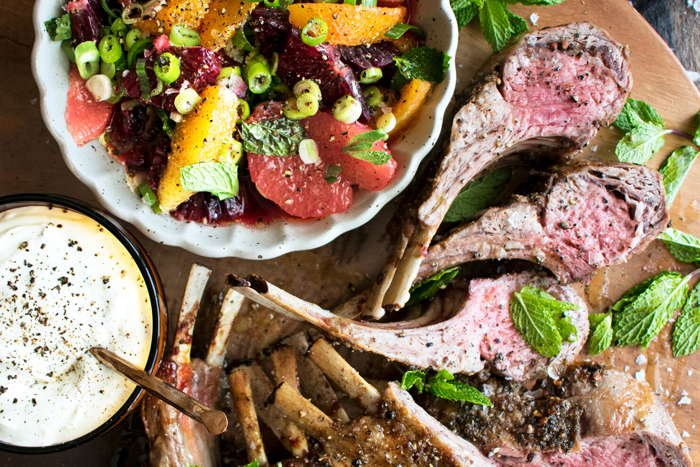 Ingredients
2 lbs LM Meat Lamb Lollipops
2 teaspoons kosher salt, plus more as needed
2 teaspoons ground cumin
1 teaspoon ground coriander
1 teaspoon ground cardamom
1/2 teaspoon crushed red pepper
1/2 teaspoon freshly cracked black pepper, plus more as needed
6 tablespoons olive oil
2 blood oranges, peeled and segmented
1 orange, peeled and segmented
1 grapefruit, peeled and segmented
2 scallions, thinly sliced
8 mint leaves, torn
1 tablespoon white wine vinegar
1 tablespoon honey
1 cup greek yogurt
2 garlic cloves, grated
flaky sea salt (optional)
Directions
For the Racks of Lamb:
Preheat the oven to 450°F. Prepare a sheet pan with a baking rack on top. Place the lamb onto the rack, pat dry, and allow to sit at room temperature for 20 minutes. Meanwhile, combine the salt, cumin, coriander, cardamom, crushed red pepper, and black pepper in a small bowl. Add 2 tablespoons of the olive oil and stir to combine.
Rub the spice mixture onto the lamb, covering both sides of meat. With the bones facing down, roast the lamb for approximately 25 minutes (for medium), or until your desired doneness.
Remove the racks of lamb from the oven and transfer them to a cutting board. Loosely cover with foil and allow to rest for 10 minutes. Slice the racks between every two bones in order to create double chops. Plate the lamb with a drizzle of olive oil and flaky sea salt (optional) over top. Serve the citrus salad and yogurt sauce alongside (recipes below).
For the Citrus Salad:
Combine the blood orange, orange, and grapefruit segments in a mixing bowl. Add the scallions, mint leaves, white wine vinegar, honey, and 2 tablespoons of olive oil. Stir well. Season with salt and pepper to taste.
For the Yogurt Sauce:
Add the Greek yogurt, grated garlic, and remaining 2 tablespoons of olive to another bowl. Whisk to combine. Season with salt & pepper to taste.