Roti (Paratha) – Guyanese Style
Inspired by Nadia from nadiadonella.com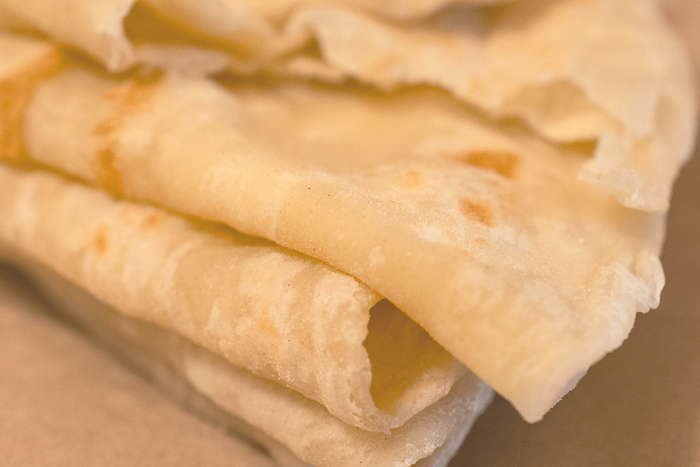 Ingredients
2 cups all purpose flour
1/2 tsp baking powder
1/4 tsp salt
1 cup lukewarm water (you will not need it all)
1 tbsp vegetable oil
On the side in a bowl:
1/4 cup vegetable oil
1/4 cup vegetable shortening
dab of butter, optional
Instructions
1. Mix flour, baking powder & salt in a bowl. Mix in the shortening until the mixture clumps into the size of peas.
2. Add enough water to make a soft dough.
3. Add the oil, you can use less, covering the dough.
4. Cover with plastic wrap or a damp, clean towel.
5. Let rest for 1 hour. You can mix the dough overnight or in the morning. Just make sure the bowl is covered so that a skin does not form on the dough.
6. On a floured surface, with extra flour ready, divide the dough in equal pieces. You should get 5-6 pieces.
7. Roll each ball into a flat circle & rub with oil.
8. Check out my video in the link to see the 2 techniques that I use.
9. Make a slit 1/2 way through each circle.
10. Rolling into a cone, pressing it down in the centre. Set aside.
11. Repeat with the remaining balls.
12. Cover with plastic wrap or a damp towel.
13. For a small amount let it sit for 20 minutes.
14. For a larger amount, say 50 or more. By the time you finish the last you should be able to start cooking the first.
15. Heat your tawa or skillet, no oil is needed.
16. Roll out a ball, to about 1/8 inch in thickness, placing it on the tawa.
17. Leave for about 15 seconds.
18. Flip over roti and rub sparingly with oil mixture. About 30 seconds.
19. Flip over and lightly oil the other side.
20. You may need to turn in over again, without oiling, to make sure that it is cooked through.
21. Take the roti off of the heat. You can leave it whole or lightly clap it between your hands. This will loosen those flaky layers.
22. You can take it to the next step and clap the roti until it shredded, which will produce buss up shot. Thank you Trinidad.
23. Repeat until you are finished with all of the roti.
24. Serve hot or at room temperature.
25. Great on it's own or as an accompaniment to your favourite curried or savory dish.