Bacon Bratwurst on a Pretzel Bun
With Warm German Potato Salad and Braised Cabbage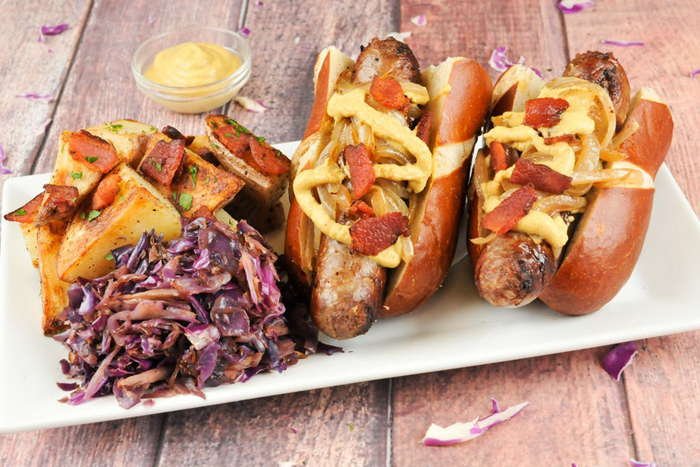 PREP & COOK TIME
25-35 mins
WHAT YOU NEED
Olive Oil, Salt, Pepper
EQUIPMENT
1 Small Pan, 1 Baking Sheet, 2 Medium Pans, 1 Wire-Mesh Strainer
Ingredients
1 Yellow Onion
3 Bacon Strips
¾ oz. Honey
6 oz. Shredded Red Cabbage
1.92 oz. Brown Mustard
2 Pretzel Sausage Buns
16 oz. Red Potatoes
5 Parsley Sprigs
1 tsp. Caraway Seeds
2 fl. oz. Apple Cider Vinegar
Directions
Prepare the Ingredients
Preheat oven to 400 degrees. Prepare a baking sheet with foil or use a non-stick baking sheet. Thoroughly rinse pro- duce and pat dry. Peel and halve onion. Slice one half into thin strips and finely dice the other half. Quarter potatoes. Dice bacon. Stem and mince parsley. Crush caraway seeds with the bottom of a small pan.
Roast Potatoes
HToss quartered potatoes in 1 tsp. olive oil and a pinch of salt and pepper on baking sheet. Roast for 30-35 minutes, or until tender. Transfer to a bowl and reserve. Warm a medium pan over medium heat. Add 1 tsp. olive oil and sliced onions. Cook for 6-8 minutes, or until onions are beginning to brown. Transfer to a plate and set aside.
Braise Brats
In the same pan over medium-high heat, add 2 cups water, brats, diced onions, and half the caraway seeds. Bring to boil, then lower heat to a simmer and cook for 15 minutes, or until brats have reached a minimum internal temperature of 165 degrees. Transfer brats to plate and reserve. Strain braising liquid with a wire-mesh strainer. Reserve strained braising liquid. Wipe out pan.
Cook Bacon, Brats and Cabbage
In same pan over medium heat, add diced bacon and cook for 8-10 minutes, or until crispy. Transfer bacon to a plate using a slotted spoon and return pan to heat. Add the braised brats to pan and sear in bacon drippings until golden brown, about 3-4 minutes. Transfer brats to plate and remove all but 2 tsp. bacon drippings from pan. Place pan back over medium heat and add remaining caraway seeds and red cabbage. Cook cabbage for 5 minutes,
add 1⁄4 cup reserved brat braising liquid and cook for another 5 minutes, or until cabbage is tender and liquid has cooked off.
Finish Potato Salad
While cabbage is cooking, place a medium pan over medium heat. Add vinegar, 1⁄4 cup braising liquid, half the mus- tard, and honey. Cook until reduced by half and pour over roasted potatoes. Add half the bacon, minced parsley, and toss, seasoning with a pinch of salt and pepper.
Plate the Dish
Slit the tops of the pretzel sausage buns length-wise, then cut in half (each brat goes in half a bun–they're long!) Place brats into each half-bun and top with sautéed onions, remaining mustard, and remaining bacon. Pile warm potato salad and red cabbage on the plate next to the brats.