Butternut Squash & Honey Garlic Sausage Macaroni Bake
Butternut Squash & Honey Garlic Sausage Macaroni Bake
Butternut Squash & Honey Garlic Sausage Macaroni Bake
Inspired by Lynn Crawford from Savour Ontario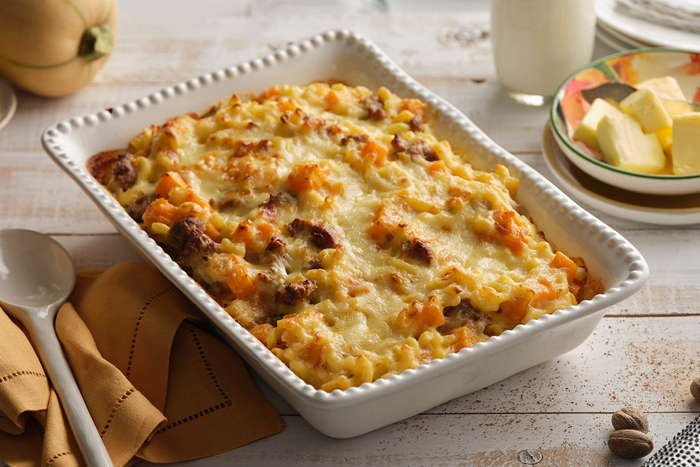 Chef Lynn's Béchamel Sauce
Ingredients
½ cup unsalted Ontario butter
½ cup finely diced white onion
1/2 cup + 2 tbsp all-purpose flour
2 tsp Dijon mustard
1L whole (3.25%) Ontario milk, at room temperature
Pinch fresh nutmeg
Kosher salt
Method
Step 1
In a large saucepan, melt the butter with the onion over medium high heat. Cook it through, but don't get any colour on it. Add the flour and whisk until smooth, about 2 minutes.
Step 2
Always stirring, gradually add the milk and continue to whisk until the sauce is smooth and creamy.
Step 3
Simmer until it is thick enough to coat the back of a spoon, about 5 minutes. Remove from heat and stir in nutmeg and Dijon mustard. Season with salt and pepper.
Butternut Squash & Honey Garlic Sausage Macaroni Bake
Ingredients
1 pkg (454g) LM Meat honey garlic sausages/, meat removed from casings, casings discarded
1 cup finely diced white onion
2 tbsp Ontario unsalted butter
3 cups (about 1 pound) diced, peeled butternut squash
1 tsp picked thyme leaves
½ tsp chili flakes
2+3 cups grated aged Ontario Cheddar
1 pound dry macaroni
4 cups béchamel sauce
2 tbsp finely chopped flat-leaf parsley leaves
Method
Step 1
Preheat oven to 425°F (220°C).
Step 2
Heat a large, non-stick skilletover medium heat. Add the sausage and onion and cook until evenly brown, about 5 minutes. Remove from heat and place the sausage mixture into a large bowl.
Step 3
Return the skillet to the stove, lower heat to medium-low and add the 2 tablespoons of butter, butternut squash, thyme and chili flakes. Cook for about 6-8 minutes, stirring together until squash is fork tender. Season with salt and pepper. Remove from heat and add squash to the sausage mixture.
Step 4
In a large pot, bring to a boil 6 litres of salted water. Add the macaroni and cook for about 6 minutes, until very al dente. Drain in a colander.
Step 5
Return pasta to the pot and pour in béchamel sauce. Using a wooden spoon, mix well until all the pasta is coated with the sauce. Add 2 cups of the grated Cheddar and stir together until the cheese has melted.
Step 6
Add the sausage mixture, butternut squash and parsley. Pour the pasta into a 9-by-13 inch baking dish and smooth out top and sprinkle with remaining cheddar cheese. Bake in oven for 25 minutes or until bubbling and the top is golden brown.