Glazed Smoked Chops with Pears
Inspired by Taste of Home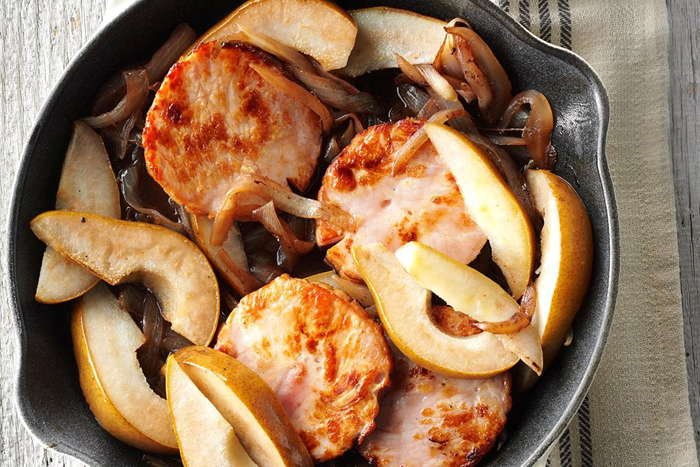 Ingredients
4 smoked LM Meat smoked pork loin chops
1 tablespoon olive oil
1 large sweet onion, cut into thin wedges
1/2 cup dry red wine or reduced-sodium chicken broth
2 tablespoons balsamic vinegar
2 tablespoons honey
2 large ripe pears, cut into 1-inch wedges
Preparation
1. Preheat oven to 350°. In an ovenproof skillet over medium-high heat, brown pork chops on both sides; remove from pan.
2. In same pan, heat oil over medium heat; saute onion until tender, 3-5 minutes. Add wine, vinegar and honey; bring to a boil, stirring to loosen browned bits from pan. Reduce heat; simmer, uncovered, until slightly thickened, about 5 minutes, stirring occasionally.
3. Return chops to pan; top with pears. Transfer to oven; bake until pears are tender, 10-15 minutes.