Grilled Pork Chops with Smokin' Sauce
Grilled Pork Chops with Smokin' Sauce
Grilled Pork Chops with Smokin' Sauce
Inspired by Taste of Home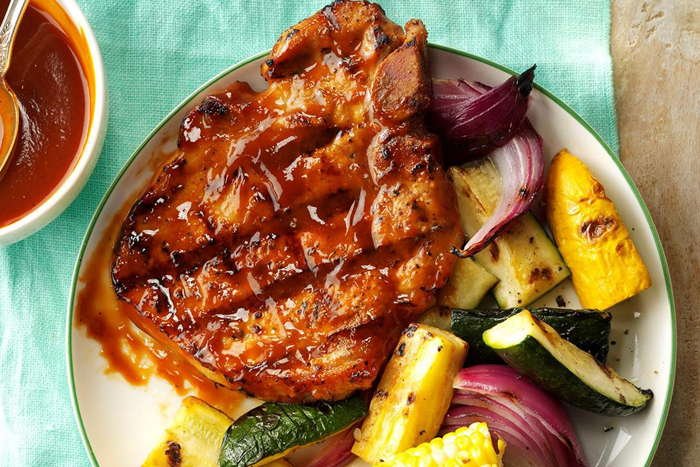 Ingredients
1/4 cup water
1/4 cup ketchup
1 tablespoon Dijon mustard
1 tablespoon molasses
1-1/2 teaspoons packed brown sugar
1 teaspoon Worcestershire sauce
1/4 teaspoon kosher salt
1/4 teaspoon chipotle hot pepper sauce
1/8 teaspoon pepper
Pork Chops:
4 LM Meat bone-in pork loin chops, (7 ounces each)
1-1/4 teaspoons mustard seed
1-1/4 teaspoons smoked paprika
1-1/4 teaspoons whole peppercorns
1 teaspoon onion powder
1 teaspoon garlic powder
1/2 teaspoon kosher salt
1/4 teaspoon cayenne pepper
1-1/2 teaspoons brown sugar
Preparation
1. In a small saucepan, mix first nine ingredients; bring to a boil over medium heat. Reduce heat; simmer, uncovered, until slightly thickened, about 10 minutes, stirring occasionally. Reserve 1/4 cup sauce for serving.
2. Using a mortar and pestle or spice grinder, crush seasonings with brown sugar. Rub mixture over chops.
3. Place chops on an oiled grill over medium heat. Grill, covered, until a thermometer reads 145°, 5-6 minutes per side, brushing top with remaining sauce after turning. Let stand 5 minutes before serving. Serve with reserved sauce.