Grilled Rack of Pork with Apricot Herb Glaze
Grilled Rack of Pork with Apricot Herb Glaze
Grilled Rack of Pork with Apricot Herb Glaze
Inspired by Mary from Vindulge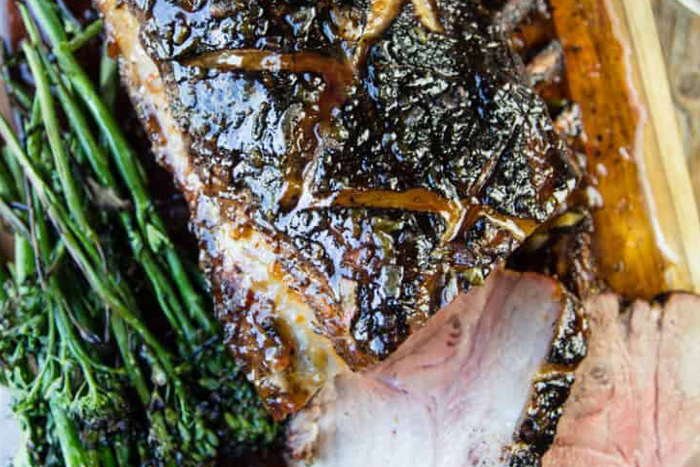 Ingredients
2 tablespoons extra virgin olive oil
¼ cup Ultimate Dry Rub
Apricot Herb Glaze
1 tablespoon unsalted butter
2 tablespoons finely diced shallots
2 12 ounce jars apricot jam
2 tablespoons finely diced fresh sage
2 tablespoons dark brown sugar
2 tablespoons balsamic vinegar
Instructions
1. Prepare grill for two zone or direct/indirect cooking. While grill coming to temperature, score the fat side of the rack of pork with three X's. Remove silver skin from bone side (if there is one).
2. Coat the rack with olive oil on all sides and liberally apply the dry rub.
3. Place the rack of pork bone side down over direct heat for 4 minutes. Flip the rack on direct heat so fat side is down, searing another 2 – 4 minutes. Keep an eye out for flare ups. Move the rack of ribs to indirect heat and continue cooking for additional 25 minutes.
4. After 25 minutes flip the rack over (still on indirect side) and cook additional 30 – 45 minutes or until the internal temperature of the rack is 145 degrees Fahrenheit. Remove the rack at that point and make the glaze.
Apricot Herb Glaze
1. In a small sauce pan over medium heat add the butter and let it melt. Add the shallots and sauté for 6 minutes or until soft. Add remaining ingredients and stir to incorporate over medium heat. Bring to a simmer, reduce heat and simmer for additional 15 minutes. Remove from heat.
Serving The Rack of Pork
1. Slice the rack of pork along the bone and then pour half the glaze over the rack. The other half place into a gravy boat for serving at the table.
Note:
If using a 4 bone roast, then modify the glaze recipe by only adding one jar of jam.