Hawaiian Grilled Pork Kabobs
Inspired by Buy This Cook That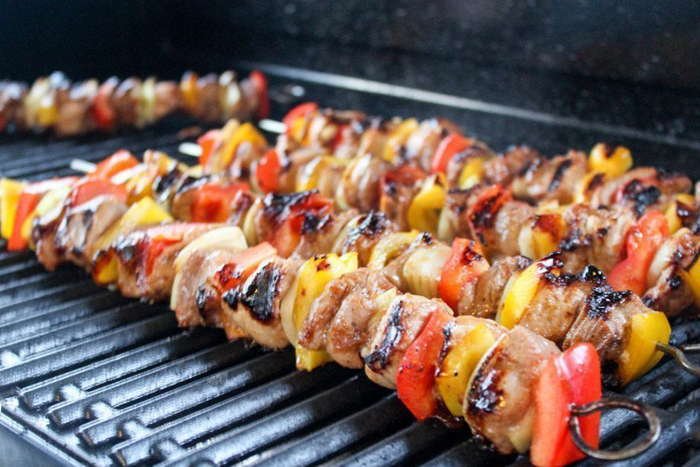 MINIMUM MARINATING TIME
1 hr
Ingredients
1 cup crushed pineapple with juice
1/2 cup soy sauce
1/2 cup honey
1/4 cup vegetable oil
1/4 cup chili sauce
3 tablespoons cider vinegar
2 tablespoons minced garlic
1 teaspoon crushed red pepper flakes
1 teaspoon ground ginger
1/2 teaspoon black pepper
1 large white onion
1 red bell pepper
1 yellow bell pepper
Instructions
1. In a medium sized bowl, whisk together pineapple with juice, soy sauce, honey, oil, chili sauce, vinegar, garlic and seasonings. Stir until well blended.
2. Pour over the pork kabobs, seal, and refrigerate for 1 hour – overnight.
3. Peel and chop the onion into 1 inch sized pieces. Seed and trim the bell peppers, and cut into similar sized pieces.
4. Carefully skewer the vegetables onto metal or bamboo skewers until you have used all.
5. On a grill heated to about 400 degrees, grill the pork skewers and vegetable skewers on 3-4 minutes on each side. Rotate until all sides are cooked evenly and the pork is done and no longer pink. Do not overcook.