Herb Crusted Pork Rib Roast
Inspired by Sabrina Snyder from Dinner then Dessert
Herb Crusted Pork Rib Roast is a show stopping holiday main course or a wonderful weeknight meal with mustard and herb buttery breadcrumb crust.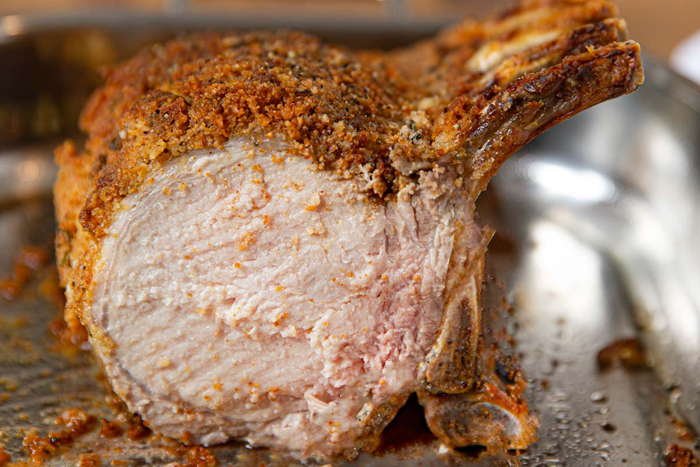 Ingredients
4 pounds LM Meat pork rib roast, chine bone removed
1 teaspoon kosher salt
1/2 teaspoon coarse ground black pepper
2 tablespoons dijon mustard
2 tablespoons extra-virgin olive oil
3 cloves garlic, minced
1 tablespoon fresh thyme, chopped
1 tablespoon fresh rosemary, chopped
1 cup breadcrumbs
Instructions
1. Preheat the oven to 500 degrees and place the pork roast in a large roasting pan.
2. Rub the pork roast with the salt, pepper and rub the top with dijon mustard.
3. In a medium bowl mix the oil, garlic, thyme, rosemary and breadcrumbs and pat it onto the top of the pork roast.
4. Roast the pork for 15 minutes.
5. Lower the temperature to 350 degrees and cook for an additional 45 minutes or until a meat thermometer in the thickest part of the roast reads 145 degrees.
6. Remove from the oven and let rest (loosely covered) the pork to a cutting board and let stand for 15 minutes.