Herbed Lentils with Italian Sausage
Inspired by Peggy Trowbridge Filippone from the Spruce Eats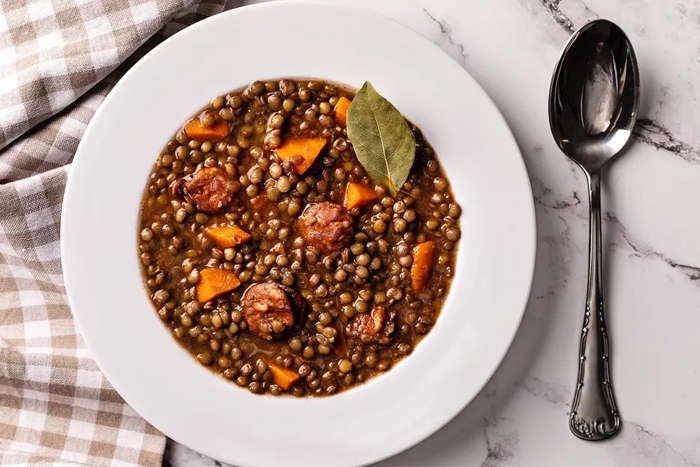 Ingredients
2 pounds LM Meat Italian sausage (fresh, sweet or hot)
1 pound lentils (dry)
13 cups broth (chicken, homemade or canned)
1/4/ cup olive oil
1 onion (small, finely chopped)
1 rib celery (finely chopped)
1 carrot (finely chopped)
2 garlic cloves (finely minced)
8 sage leaves (fresh, chopped, or 1 teaspoon dried rubbed sage)
Garnish: salt and pepper to taste
3 tablespoons tomato paste (diluted in a little water)
Steps to Make It
1. Gather the ingredients.
2. Clean lentils well by soaking them briefly and changing the water at least once.
3. Put soaked lentils in a 2½-quart saucepan, add cold water to cover, and bring to a boil.
4. Once boiling, lower heat to simmer and cook until not quite done, about 45 minutes.
5. Meanwhile, pierce sausages in several places with knife or fork, and then put them in a small saucepan.
6. Add enough chicken broth to cover sausages, and place over medium heat.
7. Bring chicken broth to a gentle boil, and then simmer for about 40 minutes. From time to time, skim off and discard foam and fat that rise to the top.
8. When sausages are done, remove the pot from the heat and let them sit in the broth while you finish the lentils.
9. Then, warm the oil in a medium skillet, and sauté the onion, celery, carrot, garlic, and sage in the olive oil over medium heat until the onion is translucent and the vegetables are done.
10. Then, drain the sausages, saving their liquid. To the lentil pot, add the vegetables, season with salt and pepper, and add tomato paste. Mix gently using a wooden spoon.
11. Add ¾ cup of the broth in which you cooked the sausages. Taste and adjust the seasoning, if needed.
To serve, slice the sausages and arrange them on a platter next to the warm lentils and vegetables.