Hot Italian Pork Sausage & Brussels Sprouts
Hot Italian Pork Sausage & Brussels Sprouts
Hot Italian Pork Sausage & Brussels Sprouts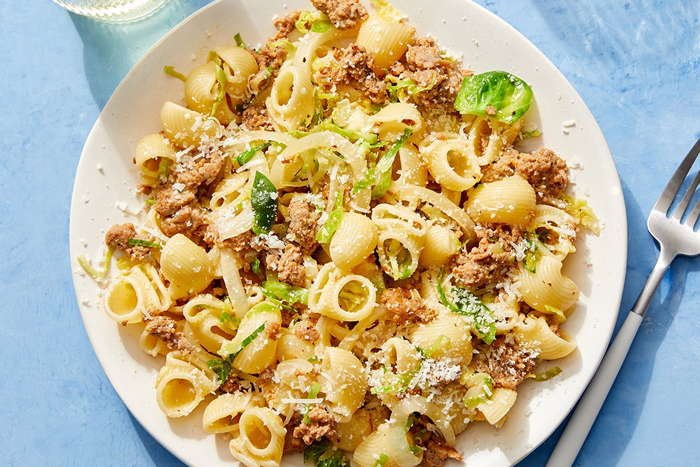 Ingredients
¼ cup Cream
0.7 oz Grana Padano Cheese
2 Tbsps Crème Fraîche
¾ lb Lumaca Rigata Pasta
Instructions
1. Prepare the ingredients:
Fill a large pot 3/4 of the way up with salted water; cover and heat to boiling on high. Wash and dry the fresh produce. Cut off and discard the stem ends of the brussels sprouts; halve lengthwise, then thinly slice crosswise. Halve, peel, and thinly slice the onion. Peel and roughly chop 2 cloves of garlic. Combine in a bowl. Quarter and deseed the lemon. Grate the cheese on the small side of a box grater.
2. Cook the pasta:
Add the pasta to the pot of boiling water. Cook, stirring occasionally, 5 to 7 minutes, or until al dente (still slightly firm to the bite). Turn off the heat. Reserving 1 1/2 cups of the pasta cooking water, drain thoroughly and return to the pot.
3. Cook the sausage & vegetables:
Meanwhile, in a large pan, heat a drizzle of olive oil on medium-high until hot. Add the sausage. Cook, stirring frequently and breaking the meat apart with a spoon, 4 to 6 minutes, or until browned. Add the prepared vegetables. Cook, stirring frequently, 3 to 4 minutes, or until softened and the sausage is cooked through. Add the juice of 2 lemon wedges. Cook, stirring constantly and scraping up any fond, 30 seconds to 1 minute, or until combined. Turn off the heat.
4. Finish the pasta & serve your dish:
To the pot of cooked pasta, add the cooked sausage and vegetables, cream(shaking the bottle before opening), and half the reserved pasta cooking water. Cook on medium-high, stirring constantly, 1 to 2 minutes, or until the pasta is coated (if necessary, gradually add the remaining cooking water to ensure the pasta is thoroughly coated). Turn off the heat. Stir in the crème fraîche and the juice of the remaining lemon wedges. Taste, then season with salt and pepper if desired. Serve the finished pasta garnished with the grated cheese. Enjoy!